Recep Tayyip Erdogan is arguably the most successful leader in Turkey's democratic history. After 11 years as prime minister, he will now become his country's first directly-elected president, in what has been until now a largely ceremonial role.
He has dominated the political landscape since 2002, steering his Justice and Development (AK) Party party to three general election victories. During his term, Turkey has seen unprecedented economic growth, constitutional reform, and a re-emergence as a major global power. This success in addition to his personal charisma and work as PM have made Turkey a model to emulate for many Muslim countries.
He won 52% of the vote at the ballot box in the August 2014 presidential poll. Barred from standing for another term as prime minister, he could now serve as president for up to 10 years and says he wants to concentrate greater powers in the post.
He has brought economic and political stability to a country that not long ago lurched from one crisis to another. During his premiership the economy has grown strongly and Turkey is becoming a manufacturing and export powerhouse.
He has also dealt powerfully with his rivals: facing down an army which once stepped into politics – and overthrew elected governments – whenever it felt the need
Erdogan has also worked on allowing religious freedom in the Muslim-majority country, which was previously ruled by an oppressive and extremist secular regime.
His humble beginnings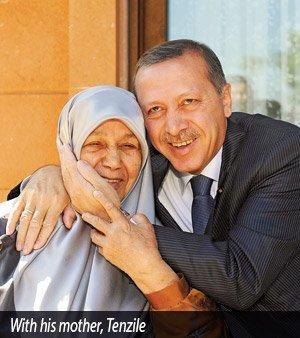 Born in 1954, he is the son of a coastguard in the city of Rize on Turkey's Black Sea coast.
Mr Erdogan was 13 when his father decided to move to Istanbul, hoping to give his five children a better upbringing.
As a teenager, he sold lemonade and sesame buns on the streets of Istanbul's rougher districts to earn extra cash.
He attended an Islamic school before obtaining a degree in management from Istanbul's Marmara University – and playing professional football.
While at university, he met Necmettin Erbakan – who went on to become the country's first Islamist prime minister – and entered Turkey's Islamist movement.
Mr Erdogan's first brush with the law came after the military coup of 1980, while he was working for Istanbul's transport authority.
His boss, a retired colonel, told him to shave off his moustache. Mr Erdogan refused and had to quit the job.
His political career in the Welfare Party, as the Islamists' party was known until it was banned in 1998, was developing fast.
In 1994, Mr Erdogan became the mayor of Istanbul.
Even his critics admit that he did a good job, making Istanbul cleaner and greener – although a decision to ban alcohol in city cafes did not please secularists.
He also won admiration from the many who felt he was not corrupt – unlike many other Turkish politicians.
His background and commitment to Islamic values appealed to most of the devout Muslim Turks who were alienated by the state.
In 1998, the oppressive secular government had him imprisoned for simply including in his poetry a line that resonated his faith: "The mosques are our barracks, the domes our helmets, the minarets our bayonets and the faithful our soldiers."
He was sentenced to 10 months in jail, but was freed after four.
Combative charisma
Mr Erdogan's AK Party, which was formed by a breakaway group of the Virtue Party, after it was banned by the courts in 2001 because of its "anti-secular" activities, won a landslide election victory in 2002.
Mr Erdogan was leader of the party but was unable to join his colleagues in parliament because he was banned from holding political office.
But a speedy change in the law cleared the way for Mr Erdogan to run for parliament – and within days of his victory he had been named as prime minister.
On the international stage, the prime minister is seen as a slightly defensive figure – tall, but stiff and unsmiling. But on his home turf, he comes alive, responding with jokes, sarcasm and even poetry to the crowds of supporters who pack his rallies.
He has the combative charisma that Turks of the teeming cities or small Anatolian towns love.
He has condemned Israel over its inhumane treatment of the Palestinians, most recently over its violent attack in Gaza. His standing up for justice has made him a hugely popular leader across the Middle East.
He has taken the lead in supporting Syria's opposition in its armed revolt against the government in Damascus, and has been credited with making peace overtures to the Kurdish minority.
Despite the widespread popularity he commands across Turkey, the past year has proved particularly difficult for Mr Erdogan. Street protests, initially against the planned development of Gezi Park in Istanbul, mushroomed in June 2013 into demonstrations.
When the government cracked down on the Ergenekon network – which allegedly involved arch-secularists plotting to stir up civil unrest that would justify a military coup – many observers applauded the government for confronting previously untouchable institutions that had a history of oppressing the people of Turkey.
Personal account
Dr Haitham Al Haddad quoted the following from Dr Saleh al-Ayid in his latest article on Islam21c:
In the summer of the year 1421 AH, 2001 CE, I was with a group of friends on holiday in Turkey. During our stay my colleague, Dr Khalid al-Ajimy and I visited the great scholar Mohammed Ameen Siraaj at his home in Istanbul. When we entered his house we found sitting with him Mr Recep Tayyip Erdogan. So we sat to discuss general affairs over tea and coffee, and we noticed Erdogan speaking in an impeccably polite manner with his Sheikh.
So my colleague Dr Khalid started to speak about Erdogan's efforts in the Turkish renascence taking place in Istanbul during his period as mayor of the city, and he praised him abundantly while Sheikh Mohammed Ameen Siraaj was translating into Turkish for Erdogan to understand. Erdogan displayed extreme humbleness upon hearing his words. When my colleague finished speaking, Sheikh Mohammed Ameen Siraaj turned to us and said:
"It is neither our Ambition nor Recep Tayyip Erdogan's to succeed in leading a province even if it is the size of Istanbul, instead we are training him to be a successful President, and you will see him soon become the President of Turkey by the will of Allāh."
Here we are now, 14 years later, witnessing the promise of Sheikh Mohammed Ameen Siraaj with the help of Allāh, come to life as Recep Tayyip Erdogan becomes the President of the nation of Turkey today. "And Allāh has full power and control over His Affairs, but most of men know not."
---