No word describes the number of survivors in the earthquake-hit zone in Turkey saved after being trapped for over 178 hours — seven-and-a-half days — except miraculous.
According to the BBC, a young girl, Miray in the city of Adiyaman, became the latest to be rescued from the rubble of a block of flats in southern Turkey, more than a week after the devastating earthquake struck.
Videos showed workers cheering and shouting "Allahu Akbar (Allāh is Great)" as Miray was lifted out of the darkness while rescue workers continued looking for her elder sister still buried under the rubble.
Several others saved by rescue teams included a 13-year-old boy, Kaan, trapped for 182 hours in hard-hit Hatay province.
A woman called Naide Umay was found alive after 175 hours in the city of Kahramanmaras. Rescue workers also made contact with a grandmother, mother and baby — all stuck, but alive — and were working to reach them.
Thousands of teams across the region comprising coal miners and experts using thermal cameras and sniffer dogs have been scouring the remains of collapsed buildings to find remaining survivors.
However, hopes of finding more survivors are dwindling and there is a sense that the rescue mission will soon end. Over a week after the destruction caused by the earthquake, the focus is shifting to recovery, with officials looking at shelter, food and healthcare.
Miracle babies
When she was rescued, baby Aya – meaning miracle in Arabic – was still connected to her mother Afraa Abu Hadiya by her umbilical cord.
Her mother, father and all four of her siblings died after the quake hit the town of Jindayris.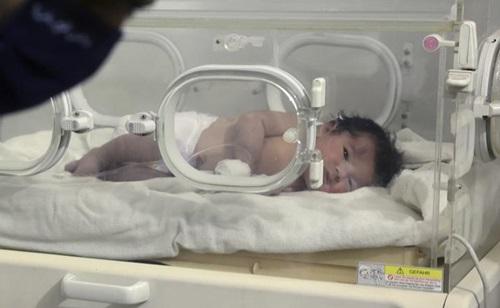 Aya arrived at the hospital, bruised and barely breathing, but is now in a stable condition.
Videos of Aya's rescue went viral on social media. Footage showed a man sprinting from the collapsed debris of a building, holding a baby covered in dust.
Khalil al-Suwadi, a distant relative, who was there when she was pulled to safety, brought the newborn to pediatrician Dr Hani Marouf in the Syrian city of Afrin. Thousands of people on social media have now asked for details to adopt her. One report said her great-uncle would adopt her.
The hospital manager, Khalid Attiah, says he has received dozens of calls from people all over the world wanting to adopt baby Aya.
Dr Attiah, who has a daughter just four months older than her, said, "I won't allow anyone to adopt her now. Until her distant family return, I'm treating her like one of my own."
For now, his wife is breastfeeding her alongside their own daughter.
* * *
Necla Camuz's second son Yagiz, meaning "brave one", was just 10 days old when the earthquake hit their home in southern Turkey's Hatay province. Necla and her family lived on the second floor of a modern five-story building in the town of Samandag.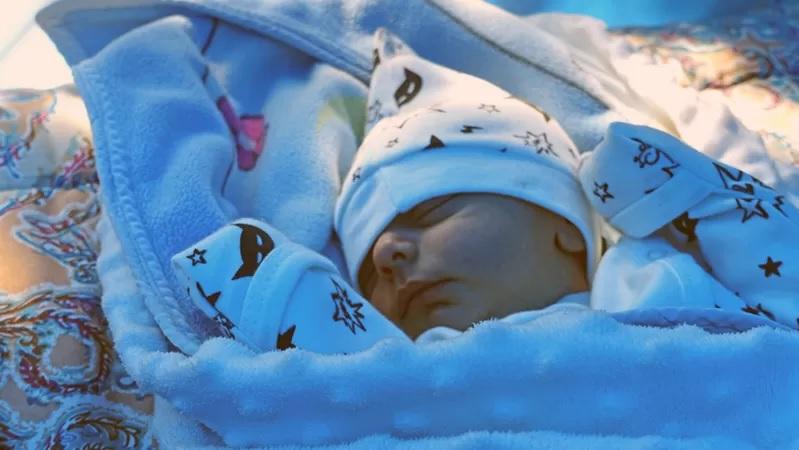 After the tremors subsided, 33-year-old Necla found herself lying down with her baby on her chest, still held in her arms. A fallen wardrobe next to her saved their lives by preventing a large slab of concrete from crushing them. The pair remained in this position for almost four days.
Necla recounted to the BBC that she could see nothing but "pitch black" but realized Yagiz was still breathing although she struggled at first to breathe due to the dust. Other than the wardrobe, the soft skin of her newborn son, and the clothes they wore, she could feel nothing but concrete and debris.
In the distance, she could hear voices and shouted for help, banging on the wardrobe but no one replied. Necla was able to breastfeed Yagiz in the confined space. He slept much of the time, and when he woke crying, she would silently feed him until he settled down.
After more than 90 hours underground, the rescue team from the Istanbul Municipality Fire Department reached them and when she got to hospital, Necla was greeted by family members who told her that her husband of six years, Irfan, and her three-year-old son, Yigit Kerim, had been rescued from the rubble.
* * *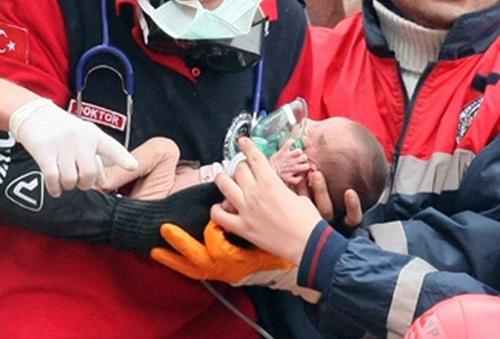 Rescue workers pulled 2-week-old Azra Karaduman (her name means "desert flower" in Turkish) from the rubble of a building in the eastern city of Ercis, 47 hours after the 7.2 quake hit Turkey. Television footage showed a worker pulling the naked baby from the wreckage before handing her off to a medic.
Born only 14 days before the earthquake, baby Azra, along with her 25-year-old mother and grandmother, were saved. Their condition remains uncertain, and it is also uncertain whether Azra's father, who was also believed to be in the rubble, survived.
* * *
A two-year-old boy, Mert Tatar was pulled alive from the rubble in Turkey 79 hours after a devastating 7.8 magnitude earthquake. The toddler was alert and smiling as he emerged from a hole in the rubble of a collapsed building in Antakya, prompting cheers from the surrounding rescue team, who quickly wrapped him in a blanket.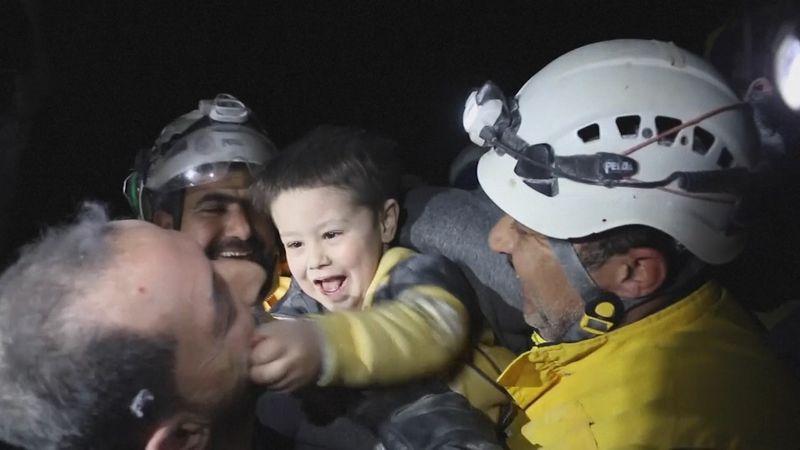 * * *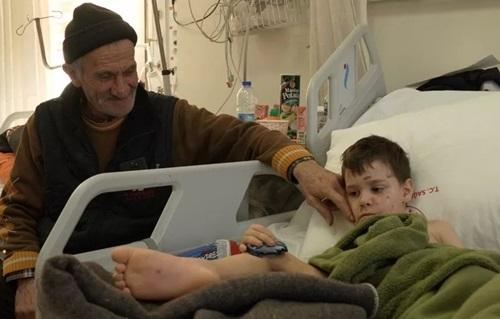 Rescue teams freed five-year-old Aras from the rubble of his home in the now devastated city of Kahramanmaras, 105 hours after the earthquake. He was brought into the intensive care unit, with hypothermia and his body temperature had dropped to 28 degrees Celsius (82 degrees Fahrenheit).
Aras and his mother survived, but his seven-year-old sister Hiranur, nine-year-old brother Alp and his father passed away in what is being called the worst disaster in recent history.
* * *
A two-month-old baby rescued from under the rubble in Turkey's Antakya on Sunday nearly 128 hours after the devastating earthquake went viral on social media. A day later, another video emerged showing the baby washed up and fed. The short clip has fetched nearly two million views on Twitter.
🇹🇷 And here is the hero of the day! A toddler who was rescued 128 hours after the earthquake. Satisfied after a wash and a delicious lunch. pic.twitter.com/0lO79YJ7eP

— Mike (@Doranimated) February 11, 2023
Among others who were pulled out alive by rescue workers were a two-year-old girl, a six-month pregnant woman, and a four-year-old and her father.
May Allah accept all those who lost their lives in the disaster as martyrs and have mercy on them and the survivors in our midst.