Fuad Al-Saeed stood on the sidelines watching his boys play soccer, bounce on an inflatable track and run laughing across an indoor field.
"My soul feels relief," he said through an Arabic translator. It's a world away from the refugee camp in Lebanon the family of eight called home until two weeks ago.
"It's a big difference," he said, pointing out his six sons aged six months to 12 years. "They are happy. This is everything."
A group of 45 Syrian refugees spent Wednesday morning playing at Soccer World after the indoor sports facility at 104 Frid St. donated time so the children living in a Hamilton hotel could run free.
Between soccer games, four dads talked about their first impressions of Canada. "It's a very nice country," said 28-year-old Rafaet Al-Shaad. "There is calmness and peace."
Peace is the word all four use to describe their new home. "I wanted to find peace and now I've found peace," said 43-year-old Khaled Hamada.
All four families were in slightly different situations, but with one thing in common — no hope for the future if they stayed where they were living. Al-Shaad spent one-and-a-half years housed in nothing but a tin shack in a refugee camp in Jordan with his wife and four children, aged six months to five years.
In the Lebanon refugee camp, Al-Saeed made $20 a day as a builder. "There was not always work," said the 40-year-old. "Sometimes it was only two days a week."
The other two families both lived in homes in Jordan, but had to spend all of their meagre earnings on rent. "There was no money," said 34-year-old Mohammed Al- Hawari. The families also lived in constant fear. "In Jordan, I wasn't happy because of restrictions," said Hamada. "They want identification every time. Policemen are in the street."
Now that they are among the 530 government- and privately-sponsored Syrian refugees to come to Hamilton as of Jan. 26, the men say their biggest hardship is winter. "Canada is very nice, beautiful and peaceful but cold," laughed Al-Saeed. "My kids like the snow," added Hamada who was a tailor in Syria. "They like to play with the snow, but I'm worried they might get sick."
All are eager to find jobs and start working as soon as possible. "If there is no tailoring work, I'll work in a supermarket or anywhere," said Hamada. "The worst thing so far is to learn the language," added Al-Saeed. "This way I can communicate with people and find a job."
They also look forward to seeing their children go to school regularly, which wasn't always possible where they were living before. "I want to guarantee the future for my kids so they grow up healthy with an education," said Al-Saeed. But for now, they're happy just to spend the morning playing with "no headaches."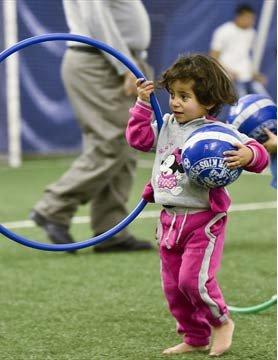 Some of the children got up at 5 a.m. because they were so excited at the prospect of a day full of fun. "They couldn't believe it," said Al-Shaad. "They want to go play." They say the donated play time is a reflection of the warm welcome they've felt since arriving in Hamilton. They describe Hamiltonians as "polite," "respectful" and "friendly." "There is no discrimination," said Al-Saeed. "Nice people and when you approach they help you."
Despite most Syrian refugee families having little knowledge of Canada or any ties here, the men said they didn't hesitate when offered the chance to start a new life in Hamilton. "They asked if I'd like to go to Canada and I said, 'Yes, I want to go.' I was happy," said Hamada. "I'm very thankful to the Canadian government."
— Joanna Frketich, The Hamilton Spectator
---