CHENNAI,the southern metropolis of India, experienced the highest rainfall in 100 years on Dec. 1 last year. Over a week of heavy downpour, the gates of the flooded dams were opened and parts of the city drowned with water reaching two storeys in some areas.
As Chennai faced a severe crisis with many homes being washed away and people stranded for days, volunteers from different communities joined together in offering relief – a heartening sight in a country currently led by a radical right wing party and where political groups brew communal tensions for votes. While all communities put in tireless efforts, the people of Chennai paid a special tribute to the contributions by Muslims.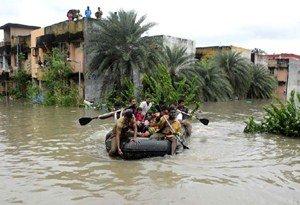 Mosques all over Chennai opened their doors to shelter people and the caretakers served food and made the victims' stay comfortable. Young Muslim volunteers took part in heroic rescue operations. Non-Muslims reportedly took to social media to acknowledge the efforts. Some of their posts as published in numerous websites online, unedited, are documented below:
"We were not willing to give our homes for rent to Muslims in our localities. Today Muslims are opening up their mosques and providing us shelter. I wish no more Babri masjids are demolished, it would help us for another calamity." [Babri masjid, a historic mosque, was demolished by Hindu radicals in 1992 – Editor.]
A Facebook post:
"A mom just called her son from a mosque where she has been sheltered and fed . She said 'I am feeling safe and also watching how Muslims pray their Lord from the behind. Am also praying to God during that time…."
"This rain has flooded my city with humanity .. our people are escaping the traps of death today.. In dangerous times like these, our popular media has made us to believe that the rescuer is an action hero like Arjun, Sarath Kumar, Vijayakanth [popular film stars – Editor] and the villains are bearded Muslim youth. But today, I witness that these bearded Muslim youth are spread across the nook and corner of the city, have daringly ventured into areas where the army, administration were hesitating. I see these youth are rescuing any victim men, women, children, old age folks , pulling out dead bodies and distributing food. As I sit in refuge in a mosque today, I seek forgiveness from Allah for many a times believing that these good hearted youngsters were terrorists."
In another story covered by several newspapers, a Muslim youth, Yunus, helped rescue a non-Muslim woman going through labor pain stranded in a dangerously flooded place. Yunus helped her to a safe spot and then to the hospital. As a mark of gratitude, the woman and her husband, Chitra and Mohan, named their new born girl 'Yunus'.
Share for the sake of Allah!
$magazine-ad$