A little 7-year-old Syrian girl, who survived a deadly missile attack when she was an infant, won the Arab Reading Challenge in Dubai, UAE on Thursday, November 10, 2022, taking home Dh 500,000.
Sham Al Bakour, was only six months old when her family's car was struck during violence in Aleppo in December, 2015. Her father was killed while she and her mother survived the horrific attack.
And at the grand finale of the Arab Reading Challenge at the magnificent Dubai Opera, she shone brightest from among 22.27 million participants from 44 countries, as she picked up the coveted award at the hands of His Highness Sheikh Mohammed bin Rashid Al Maktoum, Vice-President and Prime Minister of the UAE and Ruler of Dubai.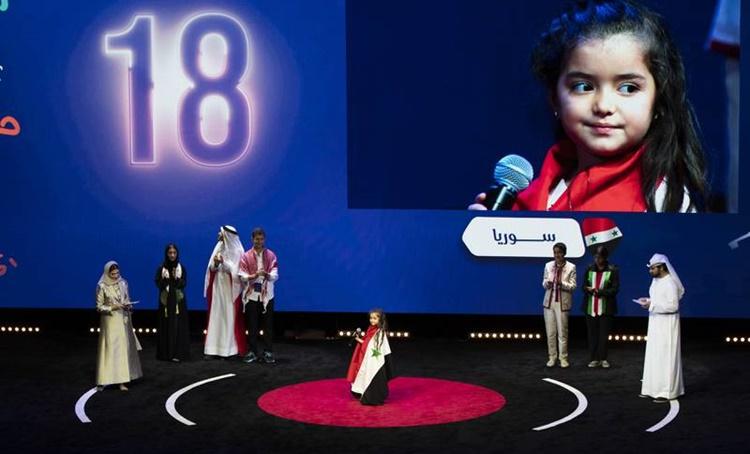 Sham, who read 70 books to win the competition, said: "I love reading because there's so much that you can learn so that we can be successful. I invite all children to take part in this competition because it is very rewarding."
When the jury asked her which book she read more than once, Sham said: "Reading a book three times is better than reading three books once. A book that should be read repeatedly is one which talks about the life of the Prophet (Peace Be Upon Him) because of the teachings in it which we can learn from and apply in our lives."
Her mother Manal Mattar, a constant source of strength and encouragement for Sham, said: "I wanted her to grow up strong so that she would never be overcome with sadness. I wanted her to know that she is unique," she said. "I want her to have an impact in whatever she does in life," added Manal.
Adam Al Qassimi from Tunisia was second in the reading challenge, while Rashid Al Khatib from Jordan ranked third, receiving cash prizes of Dh100,000, and Dh70,000 respectively, at the first in-person reading challenge awards since the Covid-19 pandemic.
The Arab Reading champion is selected based on the pupil's ability to articulate general knowledge, their critical thinking and communication skills, plus the diversity of books they have selected.
The Arab Reading Challenge was launched by Sheikh Mohammed bin Rashid, Vice President and Ruler of Dubai, in 2015, to encourage a million young people to read at least 50 books in a year.
On the occasion, Sheikh Mohammed, tweeted "We concluded today the Arab Reading Challenge. A competition in which 22 million students from 44 countries took part, each reading 50 books during the academic year. The winner this year is Sham Al Bakour from our beloved Syria. Syria the land of civilization, language, culture. Syria, the land of science, scholars and history."
Other award winners on the night
During the closing ceremony, three other awards were presented. Mokhtar Gazoulit school from Morocco was chosen for the Best School Award from among 92,583 participating schools.
The Al Tarbiyah Al Ahliyah Intermediate and Secondary Private Schools from Saudi Arabia won the second place, receiving a prize of Dh500,000, while the Al Ahed Al Zaher Secondary School from Bahrain came in third winning a prize of Dh300,000.
The Outstanding Supervisor award went to Nour Al Jabbour from Jordan who was selected out of 126,061 supervisors, while Nada Al Sattari, 13, was crowned the Community Champion. The award recognises a reading stalwart from students living in non-Arab countries. Marwa Al Bakri from Spain was second, taking home Dh70,000, while Nadia Al Bahnasi from Austria came in third for a price of Dh30,000.
Nada, a Palestinian living in Belgium, said it all felt like a dream: "I'm so grateful! When they called out my name, I thought I was in a dream, I didn't believe it.
"When I get back to Belgium, I want to help in building a school called "The Dream" to support the teaching of Arabic in a fun way. I also want to support the refurbishing of my grandfather's library in Palestine."