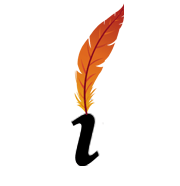 NEWS
Istanbul's Free Expo Showcases Muslim Scientific History
Turkey has opened an Islamic exhibition at the Istanbul airport. The exhibition features the works and inventions of Muslim scientists who laid the foundations of many modern disciplines such as algebra, mechanics, medicine, astronomy and physics.
"The Pioneers of Modern Science" exhibition has been designed and presented by Usturlab after working on it for two years. It was opened in the beginning of this month and is free for visitors.
Along with miniatures, replica objects, mechanical and digital applications, the exhibition also has a special section that features Es-Sufi's Constellation, mechanical designs of Al-Jazari and Benu Musa Brothers, handbag of a Doctor in the 15th Century, Chemistry Desk, Pioneering Mathematicians, Voyagers and Cartography, and Urbanism.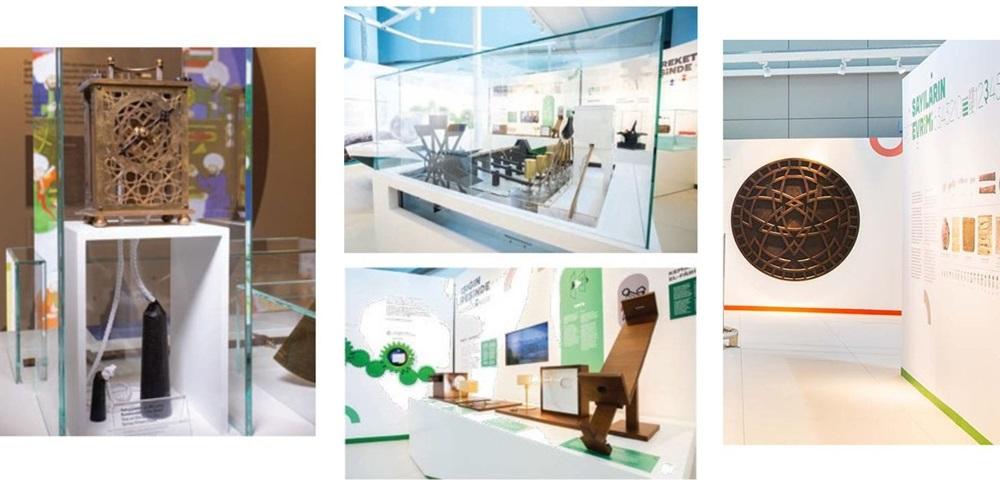 ---
Indonesian Revert Who Helped 60K People Embrace Islam Passes Away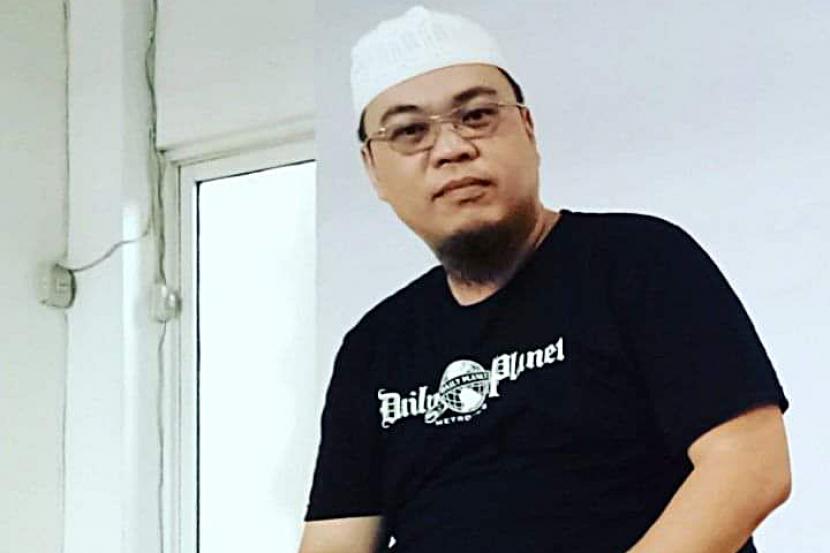 An Indonesian revert to Islam, Steven Indra Wibowo, who sold his two houses, seven cars, and three luxury bikes to help people during COVID19, has passed away. He is reported to have helped over 60,000 people embrace Islam.
Innaa lillahi wa innaa ilaihi raajioon. May Allah forgive him and grant him al-Firdaws without account.
Steven was the founder of the Indonesian Mualaf (Converts) Center. Lovingly known as Koh Steven, he passed away suddenly after performing his Isha prayer. He collapsed after prayer and was taken to the hospital.
Born in 1981, he was young and not known to have any health conditions. He was busy working on Hijrahfest, a popular Islamic conference in Indonesia.
---
Barakat Trust And Google Arts & Culture launch a digital exhibit spotlighting Gaza
Google Arts and Culture is now showcasing a digital exhibit about the Gaza strip in Palestine. It is an inaugural collection by the Barakat Trust on Google and it showcases nine stories related to the history and heritage of Gaza.
The Barakat Trust was founded as a UK charity in 1987 and operates for educational and heritage purposes focusing on the heritage of the Islamic world. The project, which is Barakat Trust's inaugural collection on Google Arts & Culture, aims to help more people around the world learn about the culture and heritage of Palestine. Barakat trust worked with experts to document a range of architectural and cultural facets of Gaza.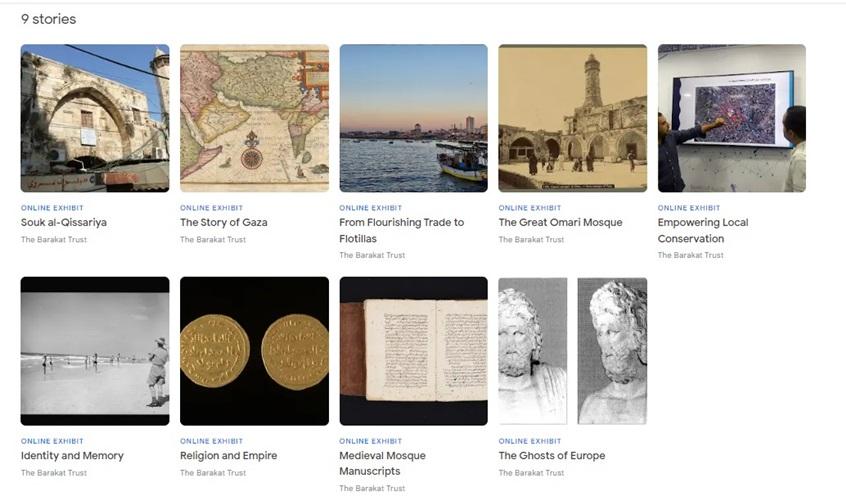 These stories help bring the outside world closer to the people of Gaza by sharing their stories and everyday ordeals. It gives them a sense of what the life of the people is like.
Each of the stories explores a topic, a landmark, or a timeline of Gaza with short pieces of information and conversational audio clips of people who have lived it and relate to it.
"It's currently home to almost 2 million Palestinians, making it widely regarded as one of the most densely populated areas in the world and leading some to call it the world's largest open-air prison, and I lived in that prison with my family," Salem Al-Qudwa, an architectural engineer at Harvard University, said in one of the audio files featured in the exhibit.
Dr. Suheir Ammar, Assistant Professor at the Islamic University of Gaza shares her experience returning to her home.
"To leave Gaza is an ordeal and to return to Gaza is another ordeal. When I finished my masters and was trying to return to Gaza, I had to spend a whole month in Egypt because the border crossing was closed."
The exhibit delves into the history and architecture of various sites and landmarks and their preservation efforts. Talking about the view of the city, Yousef al-Jamal says,
"The architecture of Gaza has changed, it looks like a concrete jungle today. In the past – I remember- even 20 years ago I would see more gardens… more green areas and trees"
One of the main heritage sites in Gaza is Palestine's oldest mosque, the Omari mosque. it was established in 1277 A.D. and was used for different religious purposes over the years — from temple to church to mosque to church and then mosque again.
"One of the symbols of tolerance in Gaza is another mosque called Katib al-Wilaya Mosque next to the Church of Saint Porphyrius. It's beautiful because the minaret and the church towers are adjacent to each other". says Ayman Abu Shaban, an architectural engineer at the municipality of Gaza
You can view the exhibit yourself here.
---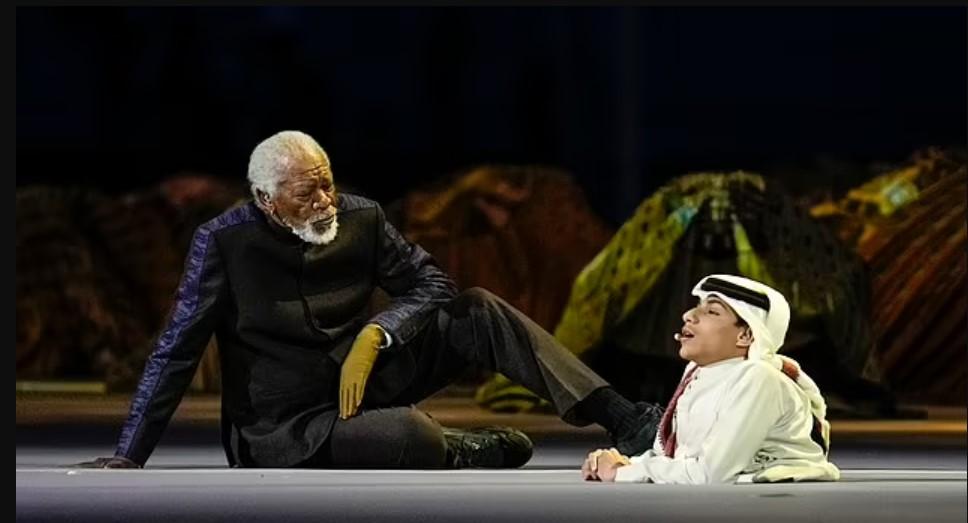 The Unbeatable spirit of Ghanim Al Muftah
Ghanim Al Muftah, a young disability activist, who has over three million followers on social media, was one of the hosts on Sunday night at the opening ceremony of the Fifa World Cup 2022 in Doha, which was watched by millions around the world.
But who is Ghanim Al Muftah?
Ghanim's story
Prior to Ghanim's and his twin brother's birth, Ghanim was diagnosed with a rare condition known as Caudal Regression Syndrome (CDS), a congenital disorder in which the fetal development of the lower body is abnormal.
Many people had suggested his mother abort him – as they believed it would save him and his mother from the suffering that this disability would bring upon them. However, Ghanim's parents decided to go ahead with the pregnancy, and Ghanim was born on May 5, 2002, along with his twin brother Ahmad.
Ghanim was born without the lower half of the body, but his parents decided to help him at all times, "I will be his left leg and you will be his right leg" they told each other.
Since then, Ghanim has astounded those around him with his unbeatable spirit.
Steps without feet but traces – TED Talk by Ghanim Al Muftah
His achievements
As a boy, he struggled to find schools that would accept him because of his disability.
But the determined youngster refused to let his condition stunt his thirst for life and decided to take on a range of sports – tackling everything from scuba diving, rock climbing, football, ice hockey and swimming, to workouts in the gym and archery.
In 2017, Ghanim completed the Muslim pilgrimage to Makkah by crawling around the Ka'abah – the building at the center of Islam's most important mosque, the Masjid al-Haram in Mecca in Saudi Arabia – on his hands instead of in a wheelchair.
Two years later, the inspirational teenager completed one of his most daunting physical challenges yet, climbing the 9,827ft tall Jebel Shams mountain, one of the highest in the Arabian Peninsula.
As well as his physical exploits, Ghanim has also spearheaded his own charity to help other disabled children.
Supported by his family, he founded the Ghanim al-Muftah Association for Wheelchairs from his home.
'I care about others – I consider it a humanitarian and moral duty,' he said as a 13-year-old when speaking to the Paralympics ahead of the Paralympic World Athletics Championship in Doha, Qatar in 2015.
In the same year, he was chosen as the 'Goodwill Ambassador' of Reach Out To Asia's (ROTA) 'Empowering Palestinian Refugee Children and Youth through Sports in Lebanon'.
The teenager visited a Palestinian Refugee Camp in Nahr El Bared, Lebanon, where he launched a new sports center to help 5,000 children.
He and his parents also started the 'Be Positive Project' to help coach disabled children.
The young activist also has ambitions of one day becoming a Paralympian, and has met Paralympic Skiing champion Tyler Walker, who flew out to Qatar several times to show Ghanim that 'there are people who are world champions with my disability.
His sporting exploits, alongside his charity work and social media following, led to the 20-year-old being selected as an official 'ambassador' of the 2022 World Cup in Qatar – rubbing shoulders with the likes of England legend, David Beckham.
He is also known for his motivational speeches and social media presence, featuring on TEDxQatarUniversity in 2018, aged 16, to talk about his condition, caudal regression syndrome.
The young man, who has more than 3.4 million followers on Instagram, was also named 'Ambassador of Peace' by H.H the Emir of Kuwait, Sheikh Sabah Al-Ahmad Al-Sabah, in 2014. He is currently studying politics at Loughborough University in UK.
Read more about Ghanim Al Muftah and his achievements here
---
7-yr-old Syrian civil war survivor wins Arab Reading Challenge award in Dubai
A little 7-year-old Syrian girl, who survived a deadly missile attack when she was an infant, won the Arab Reading Challenge in Dubai, UAE on Thursday, November 10, 2022, taking home Dh 500,000.
Sham Al Bakour, was only six months old when her family's car was struck during violence in Aleppo in December, 2015. Her father was killed while she and her mother survived the horrific attack.
And at the grand finale of the Arab Reading Challenge at the magnificent Dubai Opera, she shone brightest from among 22.27 million participants from 44 countries, as she picked up the coveted award at the hands of His Highness Sheikh Mohammed bin Rashid Al Maktoum, Vice-President and Prime Minister of the UAE and Ruler of Dubai.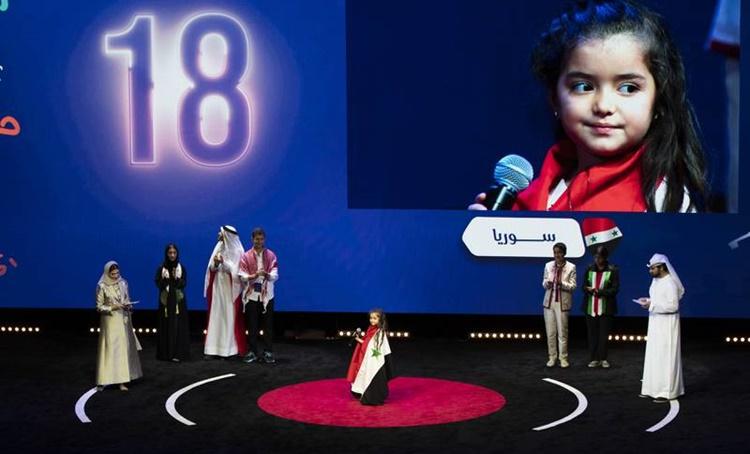 Sham, who read 70 books to win the competition, said: "I love reading because there's so much that you can learn so that we can be successful. I invite all children to take part in this competition because it is very rewarding."
When the jury asked her which book she read more than once, Sham said: "Reading a book three times is better than reading three books once. A book that should be read repeatedly is one which talks about the life of the Prophet (Peace Be Upon Him) because of the teachings in it which we can learn from and apply in our lives."
Her mother Manal Mattar, a constant source of strength and encouragement for Sham, said: "I wanted her to grow up strong so that she would never be overcome with sadness. I wanted her to know that she is unique," she said. "I want her to have an impact in whatever she does in life," added Manal.
Adam Al Qassimi from Tunisia was second in the reading challenge, while Rashid Al Khatib from Jordan ranked third, receiving cash prizes of Dh100,000, and Dh70,000 respectively, at the first in-person reading challenge awards since the Covid-19 pandemic.
The Arab Reading champion is selected based on the pupil's ability to articulate general knowledge, their critical thinking and communication skills, plus the diversity of books they have selected.
The Arab Reading Challenge was launched by Sheikh Mohammed bin Rashid, Vice President and Ruler of Dubai, in 2015, to encourage a million young people to read at least 50 books in a year.
On the occasion, Sheikh Mohammed, tweeted "We concluded today the Arab Reading Challenge. A competition in which 22 million students from 44 countries took part, each reading 50 books during the academic year. The winner this year is Sham Al Bakour from our beloved Syria. Syria the land of civilization, language, culture. Syria, the land of science, scholars and history."
Other award winners on the night
During the closing ceremony, three other awards were presented. Mokhtar Gazoulit school from Morocco was chosen for the Best School Award from among 92,583 participating schools.
The Al Tarbiyah Al Ahliyah Intermediate and Secondary Private Schools from Saudi Arabia won the second place, receiving a prize of Dh500,000, while the Al Ahed Al Zaher Secondary School from Bahrain came in third winning a prize of Dh300,000.
The Outstanding Supervisor award went to Nour Al Jabbour from Jordan who was selected out of 126,061 supervisors, while Nada Al Sattari, 13, was crowned the Community Champion. The award recognises a reading stalwart from students living in non-Arab countries. Marwa Al Bakri from Spain was second, taking home Dh70,000, while Nadia Al Bahnasi from Austria came in third for a price of Dh30,000.
Nada, a Palestinian living in Belgium, said it all felt like a dream: "I'm so grateful! When they called out my name, I thought I was in a dream, I didn't believe it.
ISLAM
The Impact Family Culture Has On Us
By Zara Andleeb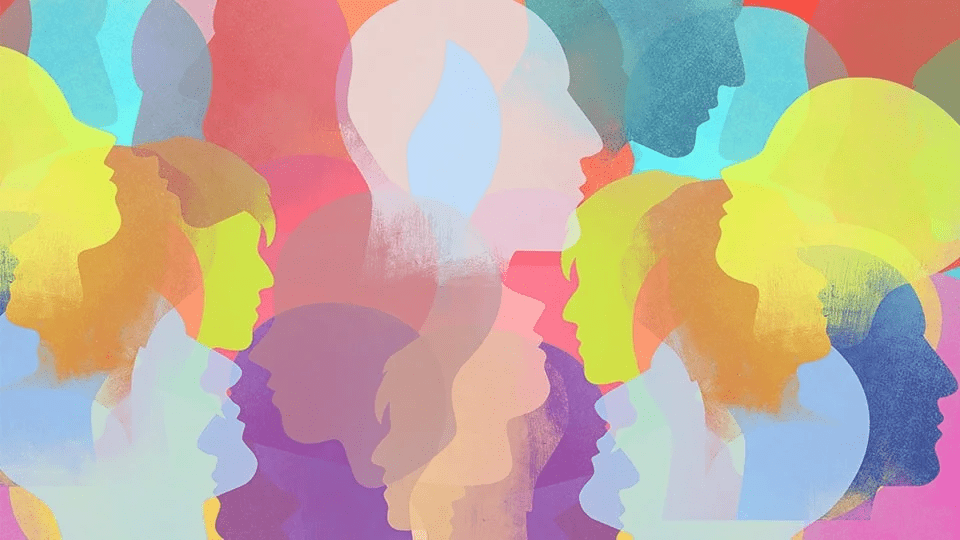 "I'm doing the dishes tonight," my husband often insists after dinner. It gives him a sense of gratification when he helps me with house chores even when there is no necessity. I try to resist as much as I can. But some days he is completely determined. My discomfort increases as he takes half an hour for the dishes, which I do in ten minutes effortlessly.
So, in our next trip to the groceries, I picked up two pairs of washing gloves (we always had only one pair at home).
When we were done with dinner that night, he took his plate to the sink and wore the gloves, claiming territory.
"Fine, I'll do the soap and you do the rinse," I said, while pulling out my pair of gloves. "We can get done much faster and chat along."
He loved the idea, and the wrap up was a success, alhamdulillah! As we were removing our weapons (the gloves), my husband, impressed and surprised, said, "I've never seen anyone do dishes like you. You are fast, neat, and organized. That's a very rare combination."
"I don't know, I think it's because I do it everyday," I shrugged, taking away all the credit shamelessly.
Walking through the corridor and preparing to get ready for bed, my mind froze for a second as I recalled "Sharfun Khala." Khala means maternal aunt, but the term is used for anyone really.
She was our maid in India who came home everyday to clean the dishes. Sharfun Khala was excellent at her work. She was fast, neat, and organized. My mom raved about her to every relative she spoke to.
One weekend, my dad called for me and my sister and demanded our complete attention. "Oh no!" I thought as my heart sank. This always happened before he was about to spoil our weekend by giving us work. As expected, he did just that. "I heard this new Khala is good at her work; you girls need to learn from her. Stand by her and watch her do the dishes today. It will be your turn to do them tomorrow and I will ask her to watch you."
No protests work with my father. But, as kids, we tried anyway.
"This is a life skill, and as future homemakers you must perfect it. Be content to learn from anyone and appreciate good work. This Khala is a single mother whose day job is to wash dishes so she can feed her kids. And she does it well. Appreciate it and learn from her. You will make duaa for me when you grow up," my father said.
We stood by Sharfun Khala that afternoon observing her wash a good pile of dishes (we are a large family, BTW). She couldn't contain her enthusiasm as she showed us her tips and tricks. And here I was, years later, an adult myself, washing dishes exactly the way I was taught that afternoon.
The whole scene came back to me and left me fulfill my father's words. He was right, I made duaa for him.
I narrated the incident to my husband.
"I've always seen that you don't mind learning something from anyone. You carefully observe the things you want to learn and put them to practice. Now I know where it came from!" He causally dropped these words and went to sleep.
But for me, the words triggered a chain of thoughts, events from the past, and lots of overthinking. I lay there and for the next couple of hours thinking of my childhood and what I am made of.
I realized that my thoughts, ideas, beliefs, and actions were all impacted by the people I grew up with. I was them and they were me. Family culture is a real thing. Directly and subtly, we are molded by how as a family we think, feel, judge, and act. We grow up with ideas of what is right and wrong based on the values, traditions, and beliefs of our family culture. Our language, narratives, and perspectives are also highly impacted.
❝
Bhai, let her enjoy the holidays, poor kid…
---
I remember doing my first grocery shopping as an adult after marriage. I opened the produce bags and arranged them in the fridge exactly the way my mom would do it, totally unintentional and completely involuntary.
Sharfun Khala's dish washing skills reminded me of another 'Khala incident.' She was Zamruth Khala; a cook appointed for a short period of time when all the women in the house had little children and cooking three meals for a house of four, and sometimes five, families was too much of a burden to carry.
It was summer vacation. The most awaited time of the year for all kids. Everyday, after breakfast, the doorbell would ring, and everyone knew that it was Zamruth Khala.
One day, as she walked into the kitchen, my father stopped her and said, "Khala, from today, Zara is your assistant. Teach her cooking and let her do all the slicing and dicing for you." She smiled and said, "Bhai, let her enjoy the holidays, poor kid."
"She has the entire day to enjoy and taking an hour or two from it won't harm."
My father sealed the deal. So, I spent my afternoons with Zamruth Khala that summer learning basic kitchen skills and watching her cook. My slow learning hindered her work process and kept her from going home early, but she was patient with me.
After Zamruth Khala left, my mom would often call me to the kitchen (at my father's orders) to assist her. But my mom is like a bullet. She is fast. Her speed and efficiency were hard to keep up with!
And she was not patient with me; she whacked and smacked me and did not take any nonsense. I quickly realized that my wild kitchen temperament came from my mom, especially when we have guests over.
❝
Today, after many years, he called me to tell me that he is now…
---
As a curious child, I observed my family quite a lot. So much so that it bothered them! I loved overhearing my dad's phone conversations. I wanted to know who he would speak to often and see how he would speak to different people.
One day I heard him speak on the phone while being unusually overjoyed and loud. I stood behind him waiting for him to end the call. As soon as he did, I jumped to interrogate him. Uninterested at first, he told me it was an old colleague. It didn't satisfy my curiosity. So, I shouted, "Tell me!"
"Many years ago, there was a little boy in the factory who made and sold tea. His family couldn't afford to send him to school. The factory had nearly thousands of workers and he made a pretty decent wage everyday," my father started narrating the story.
"I would be one of the last to leave and the boy was always around watching us quietly. One evening, as all workers left the factory one by one, I looked out of my cabin and saw him sitting in the corner doing nothing. I called him to my cabin. When he came in, I was reviewing samples. I told him to pick up a shoe from the table and gave him a list of errors to look for in that shoe.
"As his first try, he was quite sharp. I asked him if he knew to read and write English. He said he didn't. So, I gave him a notebook and a pen and wrote down some alphabets to start with.
"Every evening, after everyone left, he accompanied me in my cabin, learning to check samples and some basic English. I then moved on from the factory and started working in the head office. Months passed by and we lost touch. Today, after many years, he called me to tell me that he is now an expert in sample reviewing and is now working for a very good company. He called me to inform of his progress and thank me."
My father was the general manager at a large leather shoe manufacturing company in India at that time. He loved his job. For many years, he had around 5000 people work under him. He was a workaholic and loved progress.
Learning, working, and teaching was for him a practical process that never stopped at any time or age. When I asked him about what made him teach this kid, he explained that the kid was a young boy who in a few years would become a man. He would soon have responsibilities and a family to look after. Life won't be easy for him.
If the boy was put in school, he wouldn't learn because that was a concept that was too alien for the background he came from. A skill and some basic conversational knowledge could make things better for him. This was my father's best judgement, alhamdulillah, Allah blessed it.
My father's perspective of knowledge heavily impacted my personal learning journey. My parents were worried about our grades but there was never a standard. My grades were completely abnormal. Some subjects I would flunk and care nothing about and some subjects I would score really well. This would confuse my teachers.
It was simply because I learned what I loved to learn and did not learn what I did not enjoy to. Much of it also had to do with the connection I experienced with the teachers I had in my life. Putting me in a box was hard.
My parents were fine with me as long as I was not making foolish decisions, being lazy or behaving inappropriately and was engaged in something beneficial, smiling, having fun, and following religious and family values.
❝
It is so painful to imagine that my house will not have my Lala running around anymore…
---
From school to adulthood, nothing changed in the approach. During this transition, my family went through a major change in religious consciousness. This led to me and my sisters pursing Islamic Studies in college. This is our prized possession so far and will be so forever, alhamdulillah.
During the last year of my college, my Quran teacher called my mother and said she had a proposal for me. In the blink of an eye, I was married. Things rolled pretty fast, alhamdulillah. The words and narratives my parents used during the process subtly defined the role I was going to play as a wife.
My husband was going to pursue his masters in Canada after marriage. My father knew it was not going to be rosy in the beginning for his first born. One of my friends gifted me a book filled with messages and wishes from relatives and friends on my wedding. On the last page I read:
"My Lala, it is so nice to see you as a bride, but at the same time it is so painful to imagine that my house will not have my Lala running around anymore. I'm afraid I can't believe but that is the reality I may have to face this two more times if I'm alive in sha Allah, to see your other sisters leave me one by one. Anyway, that is a part of life. One consolation is that, by the grace of Allah I am leaving you in safe hands, Faraz. May Allah protect, bless, and have mercy on you both. Spend the rest of your lives as per our deen and enjoy, your Abba."
While we were leaving India and it was time to say goodbye at the airport, my father held back his tears. I felt him hold his breath for a bit. He wiped my tears and put his hands on my shoulders and jolted me. "Never leave the dhikr of Allah and be your husband's backbone." These two words; "safe hands" and "backbone," echoed in my ears on days I felt like the roof may crash on me and also on days when I felt like the sky was raining of happiness.
We arrived in Canada excitedly as we started life from scratch as students, in a strange country, far away from our comfort place. As soon as I put on my homemaker hat, I was unconsciously trying to be like my mom, but nothing like her.
My mom was always on top of her game and my father always gave her example (without her knowing about it, LOL). When we went out of the house, my father, a typical desi dad, was paranoid about our safety and wellness.
As soon as we reached home, my mom, chilling till then, would take over. She would enter the house like a basketball player entering the court; energetic and ready to play her sport. She knew what went where, who was hungry, who was thirsty, who had a stomach ache, and when should be the next meal.
Our meals were always cooked on time. She dressed well every single day and had us shower and dress well every single day too. The house had to be clean for her brain to function normally. Patient and positive during tough times, she was sincere in care (regardless of who needed it) and she never spoke about herself or the good she did to others.
❝
As I learned the religion, Islam became the yardstick for everything…
---
It was quite hard for me at first to connect with people in a new country. But later, when we moved into a neighbourhood full of Muslims, it was a huge relief. We had kids come to our house to learn Quran and I met their moms on a daily basis. In my head, I instantly treated them as family, not knowing the norms and culture. It was hard for me to understand things otherwise. But I soon realized where this came from.
I did not live a childhood sharing my life with just my parents and siblings. We lived in a house with my aunts and uncles, and shared life with 12, sometimes 15, other kids: my cousins. We went to the same school in the same vehicle and ate the same food.
For a long time, I didn't realize that my siblings were different from my cousins. From living in one huge house, we moved on to having every family build their own house in the same neighbourhood. It doesn't stop here. Majority of my father's relatives also lived in the same neighbourhood. which meant that his cousins were part of our lives too.
Uncles and aunts were all at the same level, whether they were my father's siblings or his cousins. I had many grand mothers and aunts too. The bond was close and strong. In any event, when everyone gathered (which was quite frequent), the house would be packed with 30-40 people. We were all neighbours and had no space for anyone other than family.
My grandparents had an exemplary presence and played a very strong role. They maintained order in the house with grace, honoring their own positions as well as that of others. We were also an expressive family; nothing hid behind the curtains or thrown under the carpet. Things were brought to the table, discussed, fought over, and made clear. Everyone was given the right to express and retribute in a fair manner. Even as kids, we were allowed to fight, take a stand for ourselves and the next moment we were best friends again.
We couldn't imagine life in any other way. Gatherings were filled with hot cups of chai, wit and humour combined with class and honor, a kind that puts every other gathering unmatched and hard to beat till date.
No favoritism was allowed. Being my Nani's first grandchild, I secured a special place in her heart. This often resulted in her giving me more attention and love than she gave her other grandchildren. Fearing the consequences it may have on my character and how other kids may feel unloved, my parents stopped the favoritism as much as they could, whenever they could, and always kept my actions at check.
From living life on the same boat to having our own boats now, and the waves of life taking us to different places, we still carry a part of each other in us wherever we go.
Was everything always positive, joyful, and perfect? Never. As much as I have to cherish, there is a lot more that I had, and still do, to unlearn. Can I mention some? Of course not! Apart from the fear of being disowned and bashed by my family for the rest of my life, it is not praiseworthy to mention the faults of others without a beneficial cause.
The Quran is called as the 'Furqan,' which distinguishes between the truth and falsehood. As I learned the religion, Islam became the yardstick for everything, alhamdulillah. Islam decided what should stay and what I must strive to unlearn and detach myself completely from.
This way, my family and all the people who have had an impact in my life, will get the reward for the good they instilled in me and will be free from the burden of passing on what was not.
It's Allah's blessing that I have so many precious moments and lessons to cherish and in sha Allah I will hold on to them close to my heart and pass them on to the generation to come so we can meet Allah with a sound heart.
Abu Hurayrah: The sahabi with a photographic memory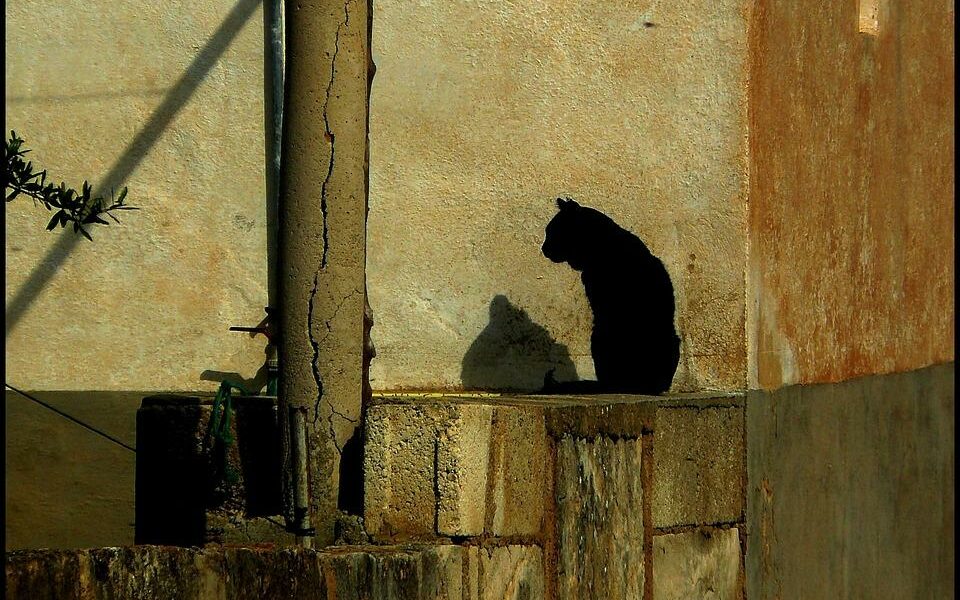 There might not be any Muslim who has not heard of Abu Hurayrah. With 5000 + narrations attributed to him, he was the most prolific narrator of Hadith.
Abd Al-Rahman ibn Sakhr Al-Azdi, well known as Abu Hurayrah (Father of a Kitten) as a reference to his attachment to cats, was from Yemen. His father died when he was young. He belonged to the Banu Daws region of Tihama which was along the coast of the Red Sea in the south of the Arabian Peninsula. When the chieftain of his tribe, At-Tufayl ibn Amr (may Allah be pleased with him), returned after meeting Prophet Muhammad ﷺ and accepting Islam, Abu Hurayrah was one of the early responders to his da'wah.
Abu Hurayrah used to work for a lady called Busrah bint Ghazwan who he would later go on to marry. He accompanied his chieftain the next time he visited Makkah and had the honor of meeting the Prophet. Abu Hurayrah stayed in Tihama for several years and migrated to Medinah not until 7AH. Though poor, he was eager to stay close to the Prophet ﷺ, so he took up his place among the Ahul -Suffah in Medinah. He had set his heart on attaining knowledge.
During the Prophet's lifetime, the only relative Abu Hurayrah had was his mother who was still a mushrik. He adored his mother and tried his best to convince her to accept Islam but she was adamant. He then sought the Messenger of Allah's advice and help. Imam Bukhari narrates in al-Adaab al-Mufrad that Abu Hurayrah reported:
'None of the Jews or Christians heard of me but that they loved me. I desired for my mother to be upon Islam but she refused. I told her again but she refused again. I went to the Prophet ﷺ and I said, "Supplicate to Allah for her." The Prophet ﷺ supplicated and I went to her. She answered the door and she said, "O Abu Hurayrah, I have embraced Islam."
I told the Prophet, saying, "Supplicate to Allah for me and my mother." The Prophet ﷺ said, "O Allah, endear your servant Abu Hurayrah and his mother to the people."' [Graded Hasan by Al-Albani]
Abu Hurayrah is widely known due to his numerous narrations that surpassed companions who were with the Messenger of Allah for longer periods. Though he spent a lot less number of years with the Messenger of Allahﷺ, he made sure he utilized every moment of his time observing, absorbing, and retaining whatever he heard and saw of the Prophet of Allah ﷺ. Unlike him, most of the companions of the Messenger of Allah ﷺ had their own families and business to take care of. In this context, it was not possible for them to observe the Messenger of Allah throughout the day. Bukhari mentions Abu Hurayrah narrated:
"People say that I have narrated many Hadiths. Had it not been for two verses in the Qur'an, I would not have narrated a single Hadith, and the verses are: "Verily those who conceal the clear sign and the guidance which We have sent down… and I (Allah) am the Accepting of repentance, the Merciful." (2:159-160).
And no doubt our Muhajir (emigrant) brothers used to be busy in the market with their business (bargains) and our Ansari brothers used to be busy with their property (agriculture). But I (Abu Hurayrah) used to stick to Allah's Messenger ﷺ contented with what will fill my stomach and I used to attend that which they used not to attend and I used to memorize that which they used not to memorize."
Abu Hurayrah was illiterate like most people of his time but had an excellent memory gifted by Allah through which, hundreds of ahadith of the Prophet ﷺ were transmitted to later generations. Initially, Abu Hurayrah was troubled by the fact that he could not retain everything he observed and heard from the Messenger of Allah. In his own words:
"I said to Allah's Messenger ﷺ "I hear many narrations (Hadiths) from you but I forget them." Allah's Apostle said, "Spread your Rida' (garment)." I did accordingly and then he moved his hands as if filling them with something (and emptied them in my Rida') and then said, "Take and wrap this sheet over your body." I did it and after that, I never forgot anything. [Recorded in Sahih al Bukhari]
* * *
Abu Hurayrah's passion for gaining knowledge was well recognized by the Messenger of Allah ﷺ. In a narration where Abu Hurayrah questioned the Prophet ﷺ about the people who will gain intercession on the day of resurrection, the Prophet ﷺ replied:
"I thought that none will ask about this Hadith before you, because I see your zeal for [learning] Hadith; the most fortunate person, who will gain my intercession on the day of Qiyamah is the one who said la ilaha illahu, sincerely from his heart." [Sahih Bukhari]
Spending most of his time accompanying the Messenger of Allah ﷺ everywhere even in his travels, Anu Hurayrah thus devoted himself and his precise memory to memorizing the hadiths and instructions of the Messenger of Allah ﷺ. When the Prophet ﷺ died, Abu Hurayrah kept narrating his traditions spreading the benefit of the gift he was blessed with.
The other Companions also acknowledged his status and referred to him to know when he had heard a certain hadith and under what circumstances. Al-Bukhari said: "More than eight hundred men from the companions and tabi'een narrated from him."
Abu Ayoob is reported to have said: I prefer to narrate from Abu Hurayrah (as an intermediary) than from the Prophet ﷺ (directly); meaning that he trusts Abu Hurayrah more than he trusts himself when it comes to narrating prophetic traditions. (Al-Mustadrak )
* * *
During the caliphate of Umar, Abu Hurayrah was appointed as the governor of Bahrain. Those were the days when Muslims were blessed with great wealth and increasing power. Umar (may Allah be pleased with him) was finical about his governors. He wanted his governors to live frugally and not acquire much wealth, although lawful and deserving. So when he heard Abu Hurayrah had become rich he recalled him to Medinah and questioned the source of his wealth. Abu Hurayrah he replied "from breeding horses and gifts I receive."
Umar (may Allah be pleased with him) ordered him to give away his wealth to the Muslim treasury, which he did saying "O Lord, forgive the Amir al-Muminin". After some time Umar asked Abu Hurayrah once again to govern one of his provinces [which proves Umar's trust in him] to which Abu Hurayrah declined with the reason "So that my honor would not be besmirched, my wealth taken and my back beaten…And I fear to judge without knowledge and speak without wisdom." [Hakim al-Mustadrak and others]
He later became the governor of Medinah in the reign of Marwaan and died there around 78 years of age. He was buried in Al Baqee in Medinah.
* * *
Abu Hurayrah was always grateful to Allah for what he was given. He summed up his life in his words:
" I grew up as an orphan and I emigrated as a poor and indigent person. I used to take food for my stomach from Busrah bint Ghazwan. I served people when they returned from journeys and led their camels when they set out. Then Allah caused me to marry her (Busrah). So praise be to Allah who has strengthened his religion and made Abu Hurayrah an Imam."
May Allah have mercy upon him and elevate his ranks for his enormous contribution to Islam and Muslim.
---
---
HISTORY
---
SCIENCE
Fetuses Frown On Kale, Smile At Carrots, Says New Research
Fetuses in the womb frowned after their mothers ate kale but smiled after they ate carrots, according to a new study of around 100 pregnant women and their fetuses in England.
The study offers a rare look at how fetuses respond to flavors in real time.
The researchers gave the participating women capsules containing powdered versions of the two foods. Thirty-five women consumed the equivalent of one medium carrot, and 34 women consumed the equivalent of 100 grams of chopped kale. The remaining 30 women didn't consume either.
Twenty minutes later, ultrasound scans showed that most of the fetuses exposed to the kale flavor seemed to grimace, while most exposed to the carrot appeared to be laughing. The control group, meanwhile, didn't have the same responses.
"We are the first ones who could actually show on an ultrasound scan the facial expressions in relation to the food which the mother has just consumed," said Nadja Reissland, a co-author of the study and the head of the Fetal and Neonatal Research Lab at Durham University, according to a NBC report.
Previous research has shown that the amniotic fluid surrounding a fetus can have different smells or flavors depending on a pregnant person's diet.
The fetuses in the new research were at 32 to 36 weeks' gestation.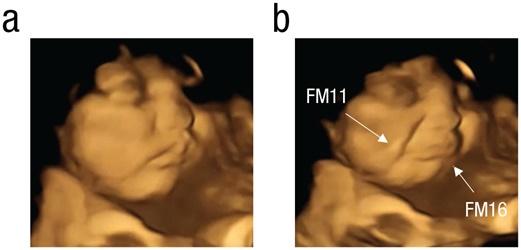 The ultrasound images suggest reactions similar to those of kids or adults who taste something bitter, Reissland said, but it's not known whether fetuses actually experience emotions or dislikes in a similar manner.
In designing the new study, Reissland and her team chose powdered kale and carrots.
"The bitter flavor gets into the small intestines and then into the mother's blood and then into the placenta and the amniotic fluid," Reissland said. "This process seems to take around 20 minutes, and what you then get is a specific reaction of the fetuses to that flavor."
Reissland thinks her study could improve our understanding of how exposure to flavors in the womb affects eating habits later in life. If a fetus repeatedly tastes kale in the womb, for instance, that baby may be more likely to tolerate — or even enjoy — the flavor once it starts eating solid food.
6 Muslim Inventions That Changed The World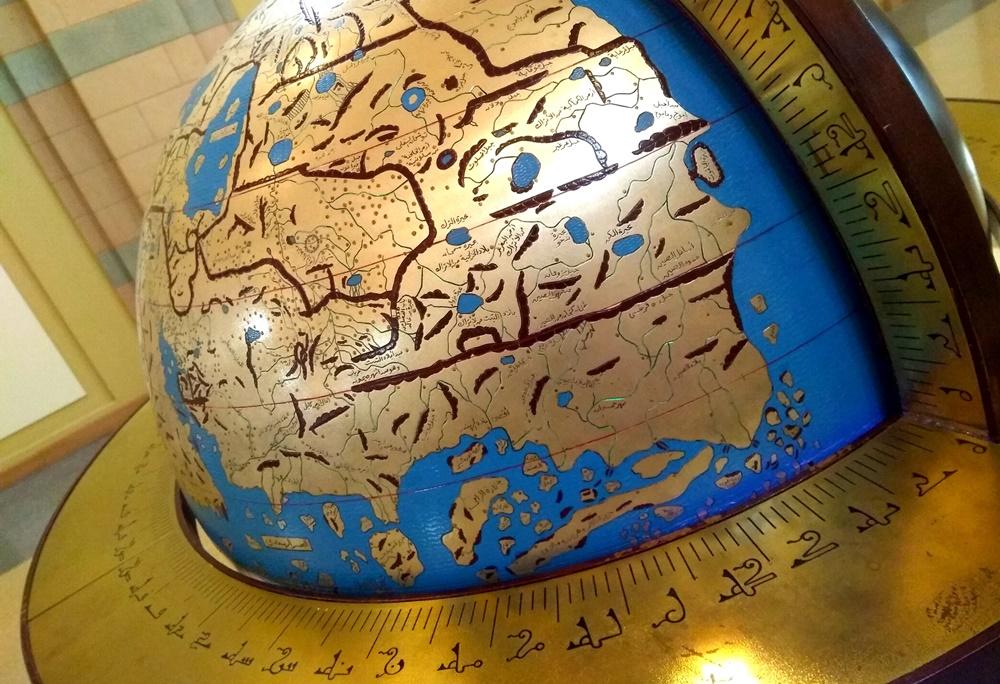 There is no such thing as Islamic science – for science is the most universal of human activities. But the means to facilitating scientific advances have always been dictated by culture, political will and economic wealth.
What is only now becoming clear (to many in the west) is that during the dark ages of medieval Europe, incredible scientific advances were made in the Muslim world. Geniuses in Baghdad, Cairo, Damascus and Cordoba took on the scholarly works of ancient Egypt, Mesopotamia, Persia, Greece, India and China, developing what we would call "modern" science.
New disciplines emerged – algebra, trigonometry and chemistry as well as major advances in medicine, astronomy, engineering and agriculture. Arabic texts replaced Greek as the fonts of wisdom, helping to shape the scientific revolution of the Renaissance. What the medieval scientists of the Muslim world articulated so brilliantly is that science is universal, the common language of the human race. The 1001 Inventions exhibition at London's Science Museum tells some of the stories of this forgotten age. Here are my top six exhibits:
1) The elephant clock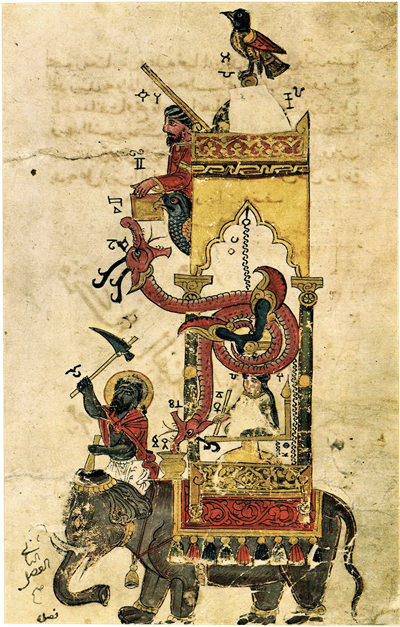 This centrepiece of the exhibition is a three-metre high replica of an early 13th-century water clock and one of the engineering marvels of the medieval world. It was built by al-Jazari, and gives physical form to the concept of multiculturalism. It features an Indian elephant, Chinese dragons, a Greek water mechanism, an Egyptian phoenix, and wooden robots in traditional Arabian attire. The timing mechanism is based on a water-filled bucket hidden inside the elephant.
2) The camera obscura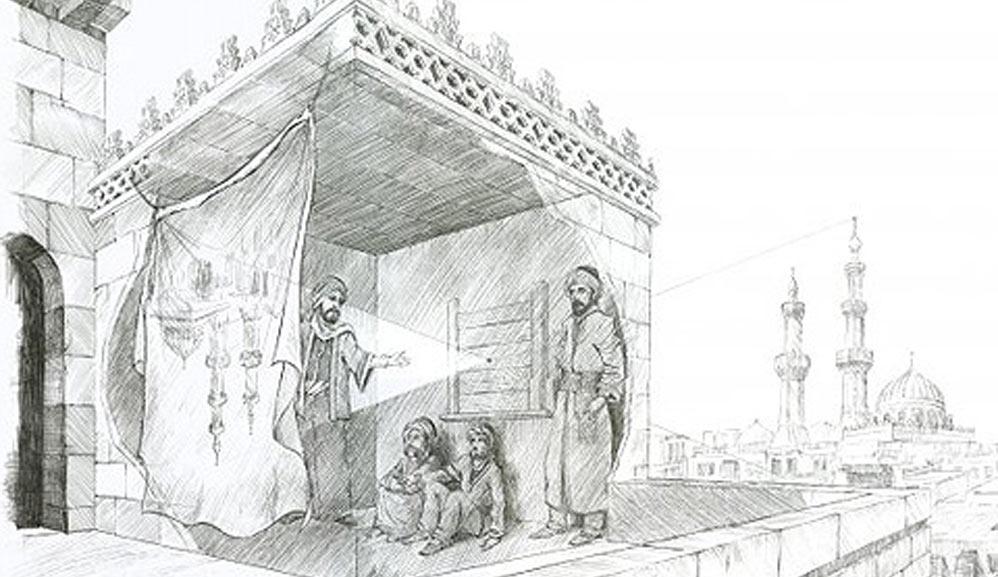 The greatest scientist of the medieval world was a 10th century Arab by the name of Ibn al-Haytham. Among his many contributions to optics was the first correct explanation of how vision works. He used the Chinese invention of the camera obscura (or pinhole camera) to show how light travels in straight lines from the object to form an inverted image on the retina.
Read more about Ibn Al-Haytham here.
3) Al-Idrisi's world map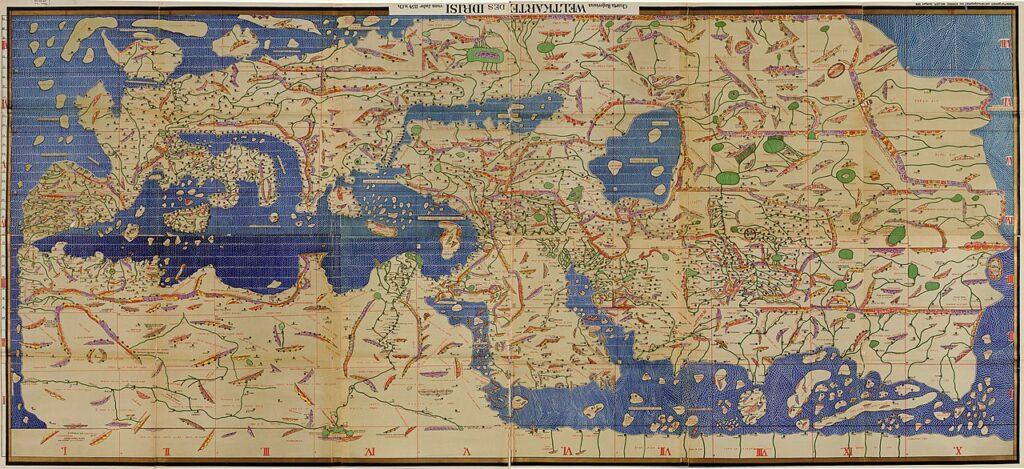 This three-metre reproduction of the famous 12th-century map by the Andalusian cartographer, Al-Idrisi (1100-1166), was produced in Sicily and is regarded as the most elaborate and complete description of the world made in medieval times. It was used extensively by travellers for several centuries and contained detailed descriptions of the Christian north as well as the Islamic world, Africa and the Far East.
4) The Banu Musa brothers' "ingenious devices"
These three brothers were celebrated mathematicians and engineers in ninth-century Baghdad. Their Book of Ingenious Devices, published in 850, was a large illustrated work on mechanical devices that included automata, puzzles and magic tricks as well as what we would today refer to as "executive toys".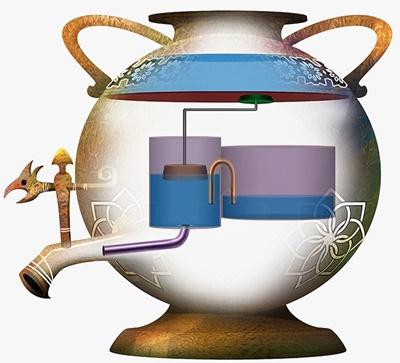 The Haunted Bottle by the Banu Musa brothers
A uniquely designed bottle with two heads. If water is poured in one and juice in another, the two liquids don't mix. Then if the liquids are poured out from the bottle, the water comes out of the head in which the juice was poured, and the opposite for the juice – it comes out of the head in which water was poured.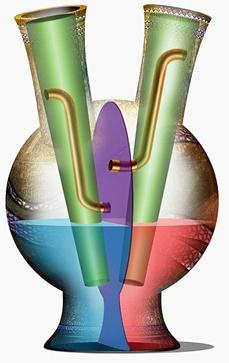 5) Al-Zahrawi's surgical instruments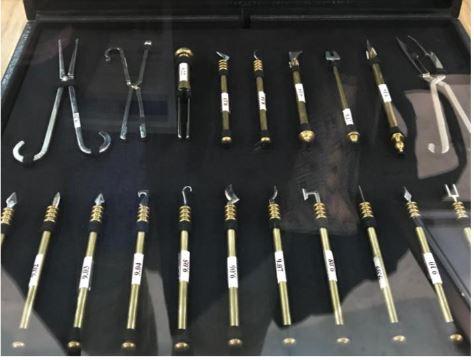 This array of weird and wonderful devices shows the sort of instruments being used by the 10th-century surgeon al-Zahrawi, who practiced in Cordoba. His work was hugely influential in Europe and many of his instruments are still in use today. Among his best-known inventions were the syringe, the forceps, the surgical hook and needle, the bone saw and the lithotomy scalpel.
6) Ibn Firnas' flying contraption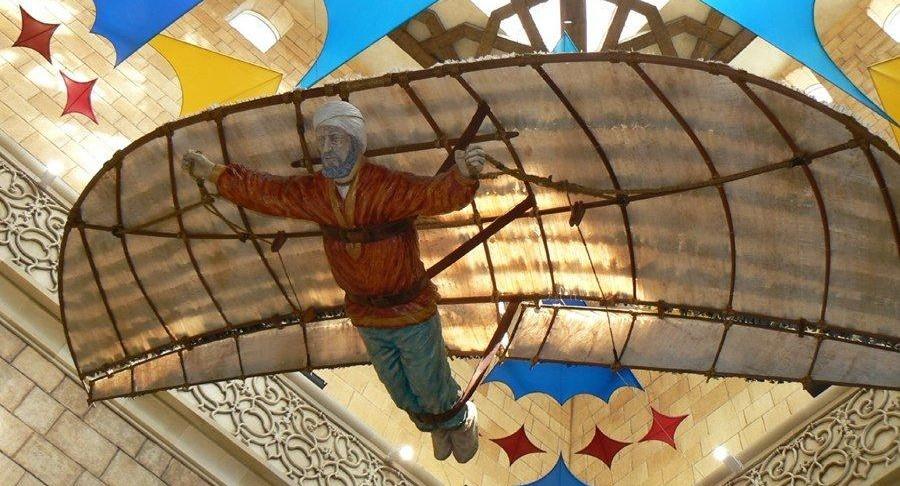 Abbas Ibn Firnas was a legendary ninth-century inventor and the Da Vinci of the Islamic world. He is honored on Arabic postage stamps and has a crater on the moon named after him. He made his famous attempt at controlled flight when, aged 65, he built a rudimentary hang glider and launched himself from the side of a mountain. Some accounts claim he remained airborne for several minutes before landing badly and hurting his back.
Jim Al-Khalili is an author and broadcaster. He is professor of physics and of the public engagement in science at the University of Surrey.
---
ISLAMIC FINANCE
Are Cryptocurrencies like Bitcoin good investments?
By Faraz Omar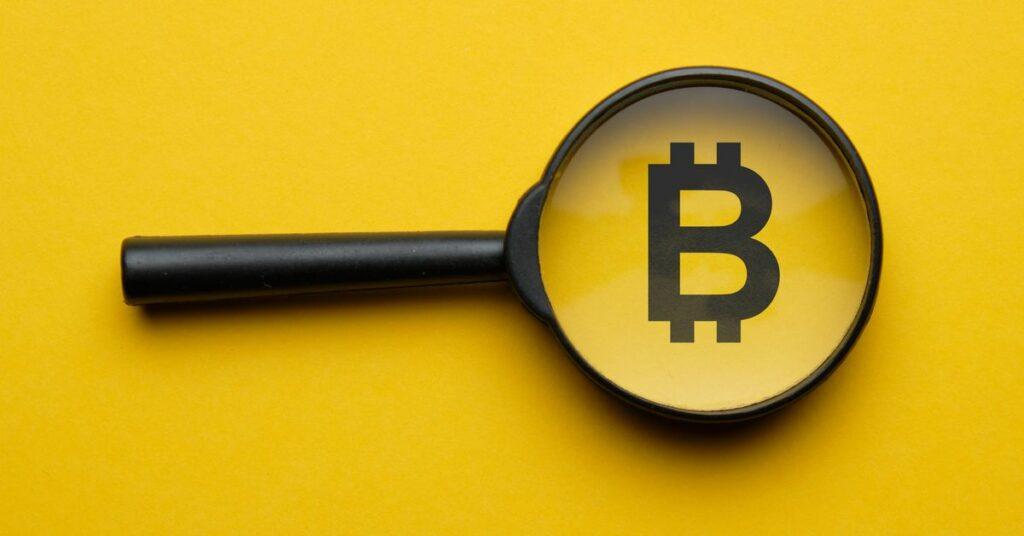 I have never recommended investing in cryptocurrencies. I understand there are respected people who do. I only focus on investing in businesses. Here are my reasons why:
1. How do you value a cryptocurrency? What is its worth? You can estimate a business's value by analyzing their revenues and potential cash flows. A crypto is neither a currency nor an asset with an intrinsic value. Even if crypto were to become a dominant form of currency in the future, which one of those will? From a purely investing perspective, so many unknowns make it not worthy at all.
2. Some Muslims who support crypto argue how terrible Ribaa-based fractional reserve banking is. While true, how does that make cryptocurrency a good alternative? The problem really is with Ribaa. Unless we can rid the world of Ribaa, cryptocurrency won't help. In fact, crypto can make it worse. Imagine a world where Bitcoin has completely replaced FIAT currency. All the Bitcoin has been mined. Now we have limited currency and Ribaa. There's no way we can mine more bitcoins. That'll lead to a catastrophe. Investments will dry up because the rich will simply make more money lending the cryptocurrency and charging high interest with very little risk. Investing in businesses won't make sense anymore.
3. Most people investing into crypto are doing it purely out of speculation and wanting to make a lot of money very quickly. They don't know why they are buying it and what its use is. All they know is that some became superrich, and they want to as well. As long as there are enough people buying into this madness, the craze will continue. It boils down to what is called "the greater fool theory."