Travelling has always been one of my hearts biggest desires. I yearn to explore the world, revel in different cultures, observe the differences of each country from the one I call home, and the one I was born in.
Travelling, however was not something I had easy access to. Due to a menagerie of reasons, my escapades were limited to my home country – which I would visit every year, and the country I called home for the remainder of the year. My heart still ached to traverse outside of these limitations.
Two decades later, however, Allah granted my yearnings, and I was to travel to Turkey on the 20th of December for a week-long stay, and I couldn't be happier.
I glowed at the new visa sticker on my passport, so different from the usual one plastered across all those pages. I carried it with me everywhere, deeming it the most important thing in my possession, looking at it with glee, like a kid, ecstatic about that new star sticker his teacher gave him for good behavior that day.
So, for the very first time, I ventured outside of my comfort zone, stepping on a flight where the destination wasn't Colombo international airport, or even King Khalid international airport, but instead, Sabiha Gokcen (pronounced 'Sabeeha Goochen), along with my well-seasoned travel buddy I'm lucky to call my husband.
Albeit a one hour delay, we boarded the plane, arriving safely at our destination at around midnight, with me making careful video documentation of our takeoff and landing while he looked on in amusement at my pure childish glee.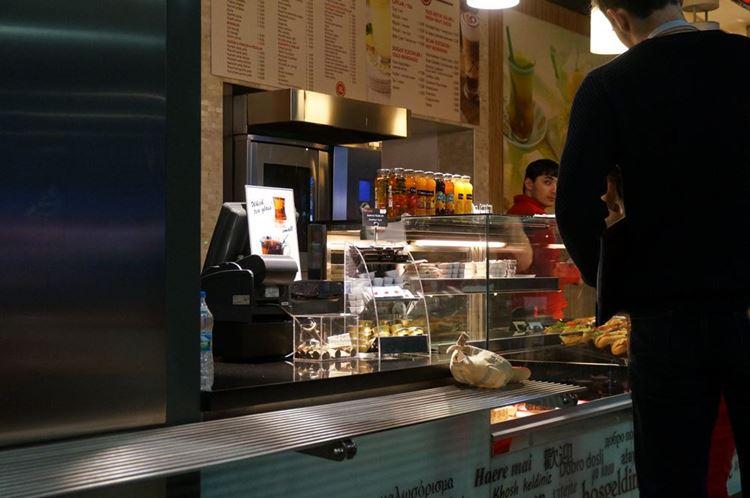 Cafe at the Turkish airport
We were greeted by a blast of icy cold air, reminding me of Riyadh winter at it's best- and realized we were mistaken in thinking we were dressed warm enough to face the weather (me having been a tad more smug since everyone knows Riyadh is much cooler- and colder- than Jeddah). Layering ourselves up, we stepped out to find ourselves a mode of transport, something that would get us to our reserved place of stay, in a place called Moda, somewhere in Kadikoy.
Having to hire a private shuttle bus due to the unorthodox hour of the day, we shared our transport with an elderly Indian couple, apparently travelling with their adult son. Approximately an hour after leaving the airport, we found ourselves at Hush Moda – a quaint, rustic motel and hostel – the most quaint and realistic place to spend the night, located ideally, not too far from the ferry service.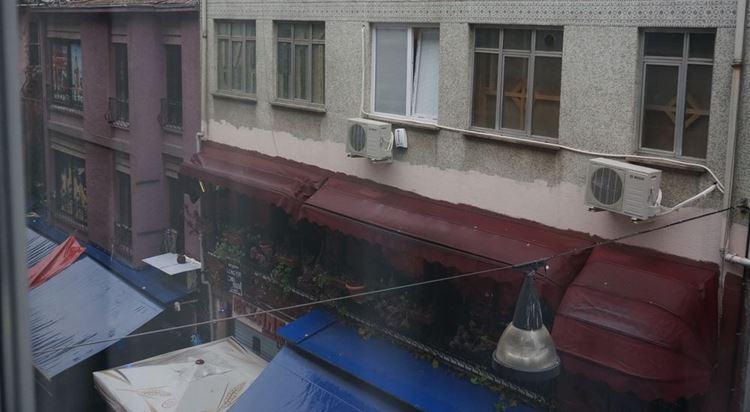 View from the room in the morning
Having gone through the necessary check-in routine, I settled myself in for a good 5-6 hour sleep that had me refreshed, after which we headed upstairs towards the terrace for the complimentary breakfast. We were once more enveloped in the icy gusts of Istanbul's winter season, with chills sweeping into our very bones, despite having on the countless layers of clothing.
Opting to stay away from the meats, despite being assured of them being chicken and turkey, we settled for a vegetarian breakfast, my eyes having noticed the alcohol menu they also served.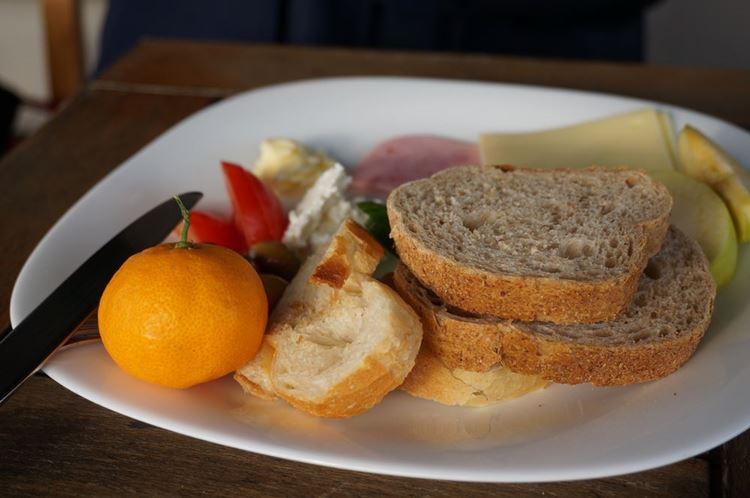 Our Breakfast
Sitting there with the wind freezing our nose-tips, munching on bread with cucumber and cheese and butter and jam, my spirits soared alongside the countless birds, all awake for the hunt for their own breakfasts, and I marveled at the magnificent wingspans of the countless seagulls and other birds my very limited aviary knowledge eluded from me.
Turkish Tea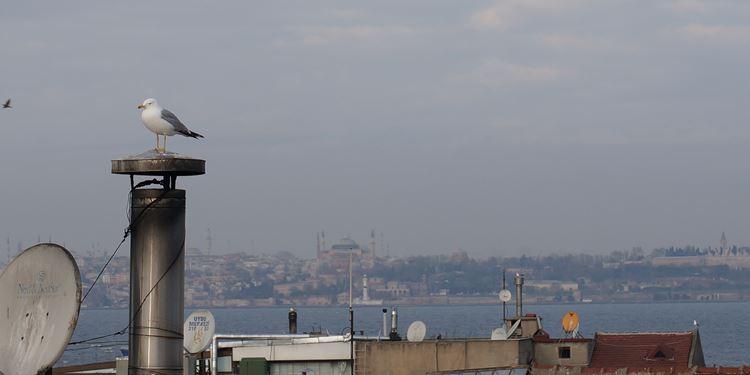 A Seagull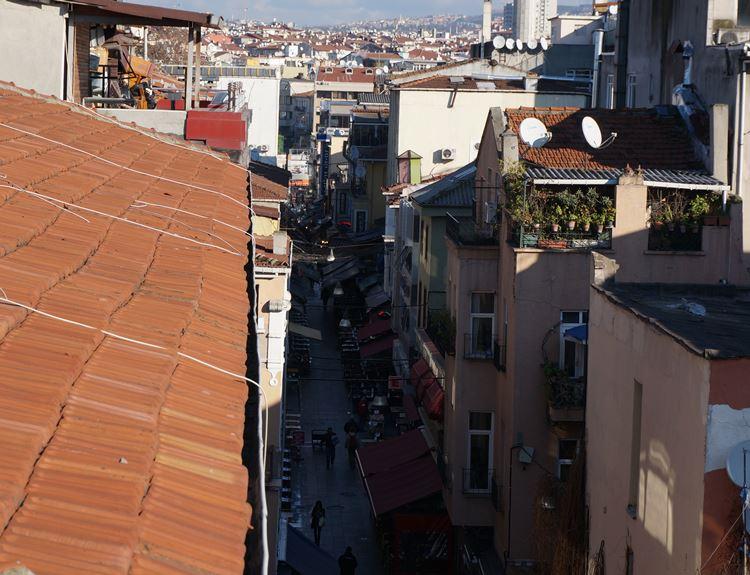 View Of The Street From The Terrace
Topping breakfast off with some Turkish tea and some fruit, we made our way back down to our rooms, ready to take on what the day brought us, my heart and soul racing in happiness and enthusiasm for the adventures to come, our next destination – Istanbul's infamous Blue Mosque.
The love that I harbor in my heart for travel is not one shared by my body. I can confidently lay claim to almost all types of travel-sicknesses, especially ones borne in a moving bus or, more so, a car that my husband has decided to pretend is a nascar racecar. It came as a pleasant surprise, however to discover that albeit not having 'sea-legs', and needing someone or something to anchor myself steady while on a sea vessel, I cannot claim sea-sickness as my own, something I discovered some months earlier on a cruise trip in Obhur beach, but was reinforced today as we took the ferry to get to and from the European side of Turkey which housed the ever famous 'Sultan Ahmed' or 'Blue Mosque' – our destination for the evening.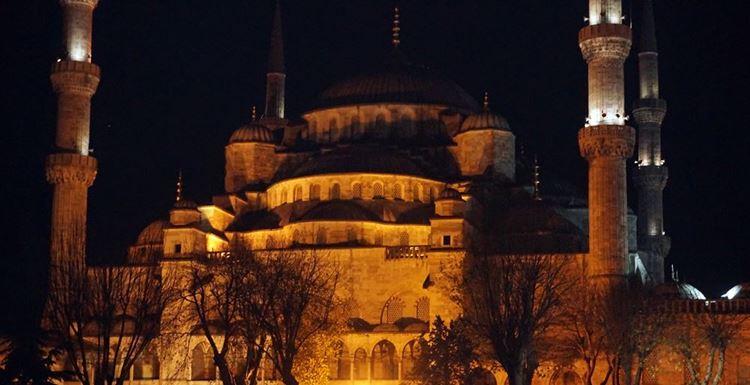 Sultan Ahmed Mosque
Leaving our hotel room at around 3PM, huddled under three layers of winter's best, we stepped out of HUSH moda only to be greeted by the pleasant, chilling presence of rain.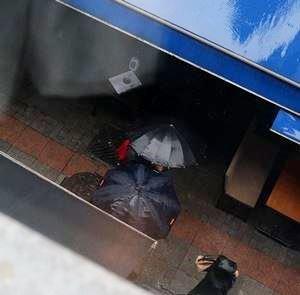 But this was no ordinary rain, mind you. It carried the power and punch of a Riyadh-style hailstorm. Each drop would chill you to the core, but if rain was something you reveled in – like I do – it only makes you laugh in madness and joy, enjoying the strength of the winds that held responsibility for the innumerable orphaned umbrellas wandering around madly, as well as the handicapped ones that people held in their hands uselessly, looking for a public trash bin where they could discard them and face the rainy wrath by their lonesome. People made their way in huddled, hurried groups, seeking refuge inside of bookstores and grocery shops as the gusts and the rain drops seemed, by all understanding, as though they would carry one away for their own purposes.
Five minutes into the overcast afternoon, and drenched throughout our two-layered jeans and our three- tiered sweaters, we made our way to the docks where we purchased a pair of tickets at 4 Lira each that would carry us to what is known as the European side in approximately half an hour.
Deciding to take full advantage of the ride, we opted out of the walls and the indoor heating of the 'ground floor' of the ferry, and instead exchanged it for the much glamorous tarp-covered, water leaking, ice cold, faux roof of one floor above that gave a stunning view of the waves we left in our wake, and the seagulls and other birds that dipped oh so frequently into the water to catch a fish unfortunate enough to swim too close to the surface.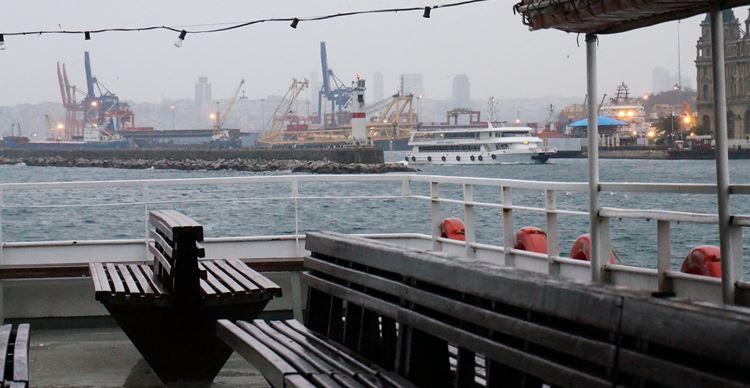 View from the top deck of the ferry
The lack of people on this floor reinstated the idiocy of my need to get a full experience under the current weather, but the Turkish tea that can literally be found anywhere, kept us warm, along with the simple yet delicious Panini we purchased at the ferry's cafeteria.
Docking at Eminonu, we were aware that to reach the Blue Mosque, we were required to do a tad more of journeying, and so we embarked a tram that would take us within minutes of walking distance from the renowned mosque.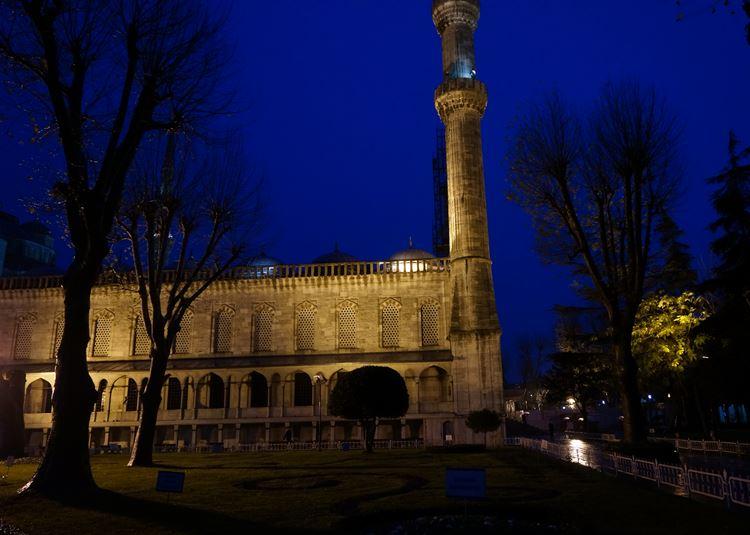 Darkness was fast enveloping, and by 5PM, the skies looked as black as an average 9PM day would back at home. Undeterred due to the aid provided by the uncountable number of lights that lit our path, we took the visitors entrance into this well acclaimed tourist destination of the country that had people from all over the world flying thousands of miles to visit – a fact that was not missed on me as I noticed the divergence of faces and languages that surrounded me as we entered.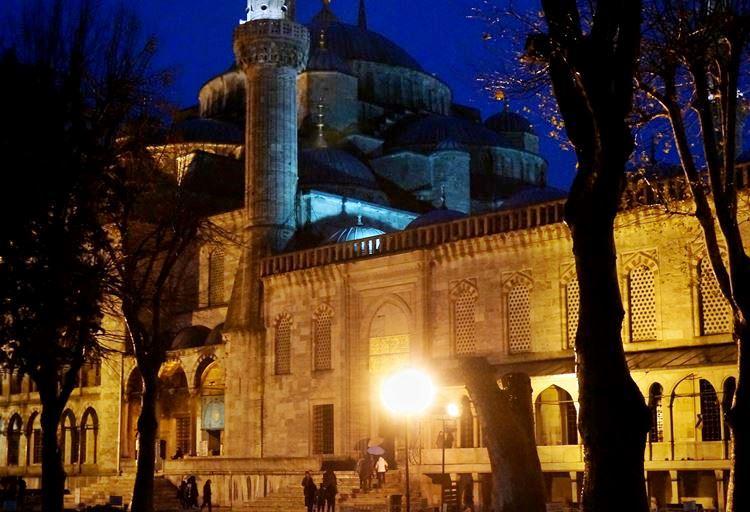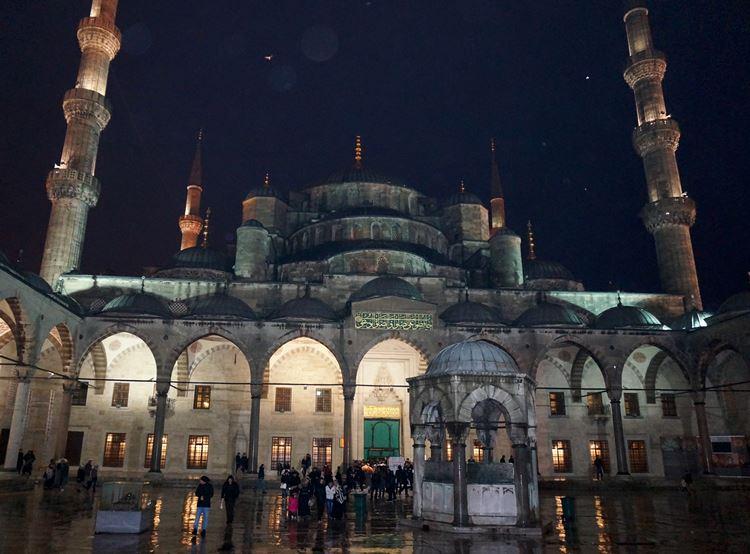 Courtyard of the Mosque
Inside waited what looked to me as a courtyard of immense proportions, with a stand-alone structure erected in its center, housing what seemed in all likeliness like a big bird-bath.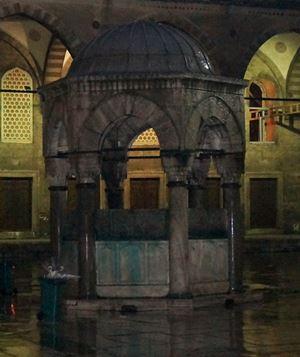 The surrounding walls of the courtyard were lined with Islamic history, Meccan history, and a brief insight into the history of the building of the mosque, my mind highlighting how the Ottoman emperor, Sultan Ahmed I, who rose to power at the age of 14, decreed that the mosque be built at the age of 19. It tickled me morbidly to think that centuries ago, boys of merely twenty years of age, ages we now consider as barely youth, were mature and qualified enough to rule countries, and built monuments that, decades later, still attract people from all across the globe. It's a depressing notion that, as time goes by, instead of advancing in maturity and responsibility, as is the usual process of mental evolution, the youth of today seem to only decrease in responsibility, maturity, common sense, and level headedness, and I say this with a front row seat in the experience of it all.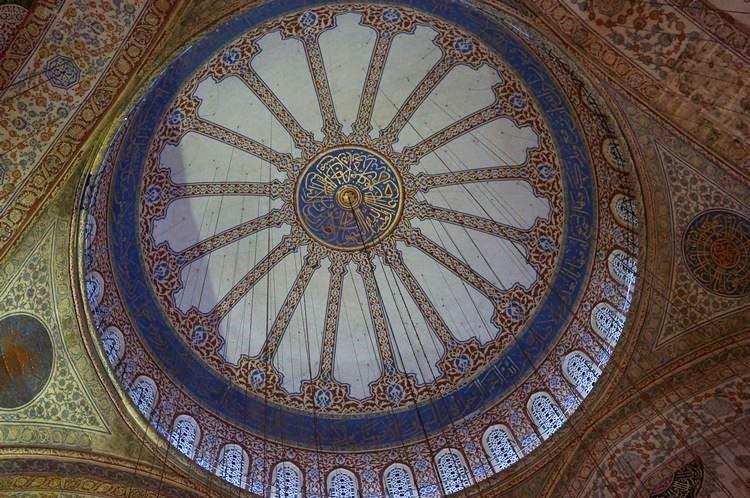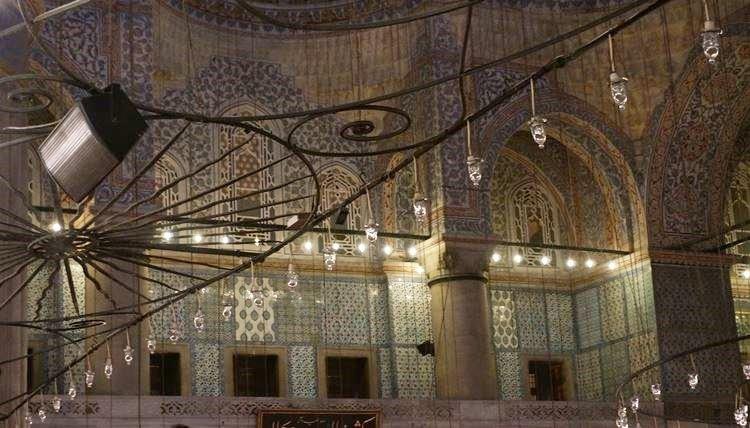 Interior decor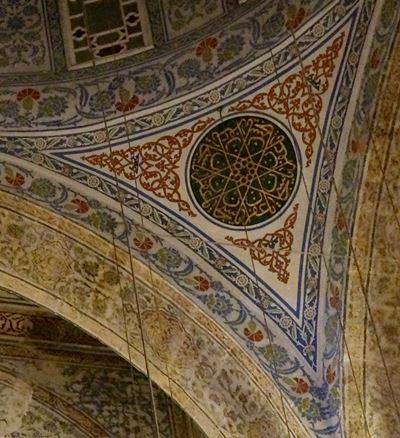 The interior of the mosque delivered the grandeur and the splendor that the exterior promised. Gleaning its internationally acclaimed name, "Blue Mosque" from the intricately handmade tiles that adorned most of its surfaces that hailed from Iznik (Nicaea), the floral patterns that dominated most of the décor had me breathless, musing at the finery created under the rule of a boy who executed the order to build a magnificence of such breathtaking beauty who also, incidentally took part in the labor work himself.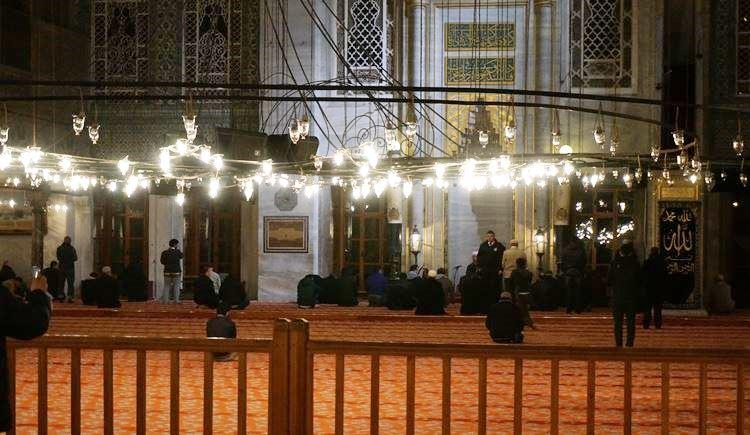 Inside the mosque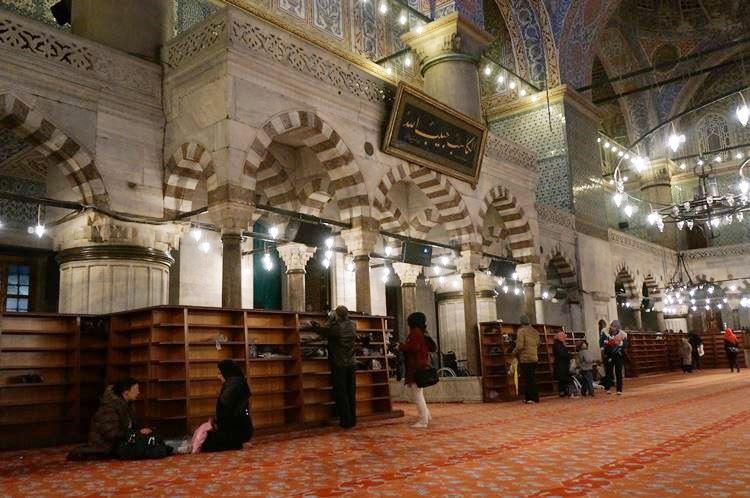 The mosque took approximately 7.5 years to build, and to this day is maintained splendidly, with monitors outside every entrance to ensure shoe removal by tourists, as well as plastic bags provided to carry them. The carpets are lush and soft under the feet, and in this winter season, a welcome to our icy toes.
We spent a good portion of the next two hours in different angles of photography, and aimless wandering of the magnificent structure, only to begin our journey back after the Isha Prayer, with the beautiful voice of the imam ringing in our ears.
We made our way back to the Tram that carried us to Eminonu where we boarded a ferry that took us the rest of our way back to Kadikoy. Exhausted, we finally reached our hotel room, the only thought in my head, the soft pillow, and the warmth of the heater slowly curling it's comforting fingers around my frozen, aching body, our adventures in this marvelous city, barely having begun.
Photo credits: Rizwan Nizous