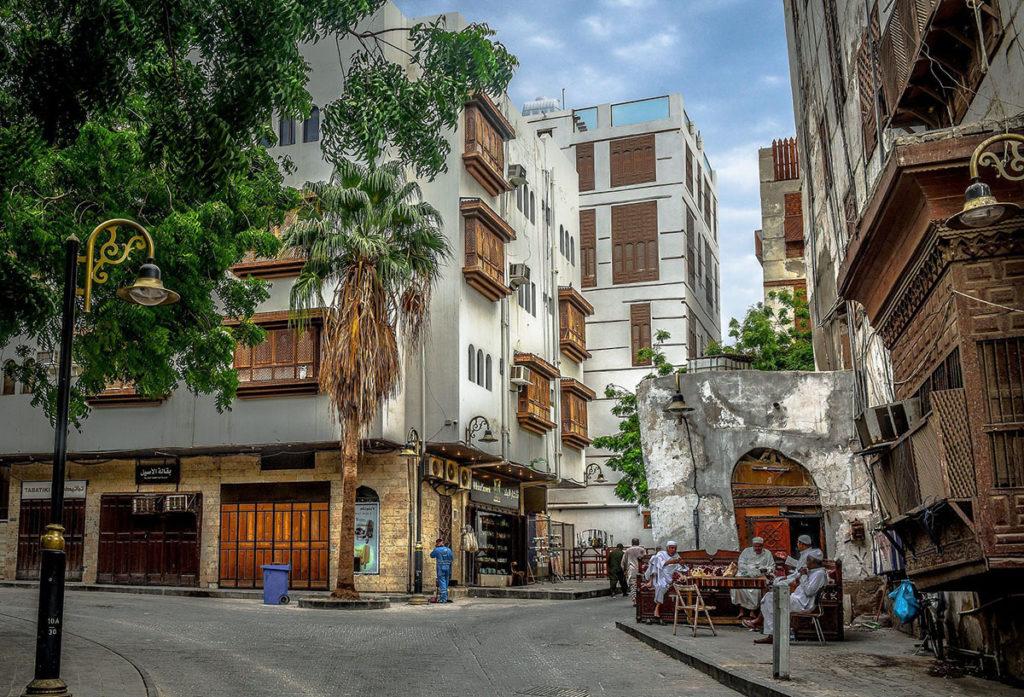 BEYOND the glitz and glamour of the grand malls and superhighways, the multi-cuisine restaurants and cosmopolitan communities, there's another side to Saudi Arabia that not many people talk about: the sleepy small towns and villages, where life goes from one day to another at an unhurried, graceful pace, untouched by the bigger-better-faster, more fevered tempo of the big cities.
Here, bedouins still saunter into supermarkets and mosques with little sprigs of rayhaan (fresh fragrant herbs) tucked into their turbans and a silver dagger at their belt; neighbours drop in after the late-afternoon ʽAsr prayer, bearing qahwah (Arabic coffee) and homemade sweets; children troop in for prayer, boisterous and sweaty after a football game in the sandlot, women buy and sell — unhindered and unselfconscious — in a separate area of the main Souq designated specially for them, and the night stars twinkle solemn and huge after sunset, with no competition from bright city lights.
I remember feeling apprehensive about having to live in a small town during the early days of my stay in Saudi Arabia, but now, in retrospect, I wouldn't have it any other way. Alhamdulillah, I met many wonderful people and was made to feel accepted and welcome in a manner I never experienced in the urban ghettoes of Jeddah, where we moved later.
Despite being in a new place where we barely knew anyone, we always found people willing to help whenever we needed them.
---
I recall the women of my hayy (neighbourhood) coming over to welcome me after I had moved in and inviting me to their houses… the platters of home-cooked food that descended in time for Iftaar in Ramadan…the thoughtful gifts and trays of special meals of lamb shorba and chicken soup after I had a new baby. I remember the sumptuous lunches and dinners we were invited to, where the hostess took special care to serve us herself; the elderly women who insisted we call them 'Khalah' (aunt), unabashedly curious about the culture we came from, questioning us late into the night in their eagerness to learn about a different way of life firsthand.
I remember the women in the Masjid where we went for the Friday prayer arriving well before the Khutbah, always bearing some small item to distribute among the worshippers – daʽwah booklets, audio tapes and CDs of Islamic lectures or Qur'an recitations, bottles of water, twigs of miswaak, little bunches of rayhaan and sesame-covered dates. I remember the muted scent of incense with which they perfumed the Musalla (prayer hall), and the scrupulousness with which they cleaned up after prayer, bending down to pick bits of carelessly discarded tissues and empty plastic tumblers — solely for the spiritual reward, for the sake of Allah.
Despite being in a new place where we barely knew anyone, we always found people willing to help whenever we needed them. When my husband had an accident and had to undergo surgery, when we were looking for a new car and didn't know where we'd get a decent deal, when we wanted sheep for the baby's Aqeeqah, when our car broke down and had to be towed – people didn't wait to be asked to help out. They insisted on pitching in, reminding us when we demurred that we had rights upon them, subhan Allah!
Looking back, I can't really determine what made our early days in Saudi Arabia different, almost utopian – certainly a far cry from the distressing stories of discrimination faced by many expatriates. Perhaps smaller towns still retain the flavour of the past values of karam (generosity)and dhiyafah (hospitality), the days of grace, that are fast being replaced by avarice and an every-man-for-himself brand of selfishness all too visible in cities.
Perhaps what helped was that we resolutely steered clear of negative preconceptions and consciously worked at harboring good thoughts and expecting nothing but khayr (goodness) from Allah, realizing that He has the forelock of every creature in His hand, and that He is capable of all things.
Obviously, Saudi Arabia is not immune from the human failings and modern afflictions that beleaguer the world today – it has its own unique strengths and problems.  Yet, the constant negative press coverage, online slugfests and criticism in real-life conversations reflect an unhealthy preoccupation with the more evil aspects of this culture or society.  This perpetuates stereotypes, leading us to evaluate and interact with people based on generalizations, instead of individual merit.  In doing so, we only foster greater prejudice, constrict our worldview and in the case of those of us who live here, make our lives bitter and discontented.
[Also read: Qatar History & Tourism: How Islam Came To Qatar]